BONUS CONTENT
"I love interacting with my fans on Instagram/twitter and all other platforms. If I'm having a tough day I can always depend on my fans to brighten the mood." @tionnatease
Posted on November 11, 2019
Charlie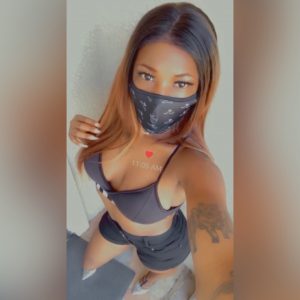 Hi I'm Tionna Tease, a stripper turned amateur adult content creator- independent cam host and over all multi facet adult industry performer. I am 25 years old, a cancer. Starting stripping in 2013- got into live webcamming and from there branches out to creating content amateur adult content in2016. I was born in Oakland, CA I currently live in Richmond, CA. My hobbies currently are cooking, reading, and writing erotic poems/stories. 
How does it feel to know so many strangers are aroused by your clips, posts, tweets, etc ?
To know many strangers are aroused by my videos gives me a feeling of empowerment. It's a wonderingly feeling knowing I have the power to make people feel good sexually. 
Please tell us about your tattoos and/or piercings ? How many do you have? Where are they? Which is the most recent? Which was the most painful?
I have 20 tattoos total. Currently no piercings, my most recent tattoo are my butterfly wings that I have tattooed separately in each of my butt cheeks, my most painful one would have to be the quell pen running along side of my right rib.