BONUS CONTENT
" I like horny men to sit behind their screens and beat their meat just by the sound & thought of me while their girlfriend is in the other room taking care of their kids! " @Cocopuffphatty
Posted on April 18, 2020
Charlie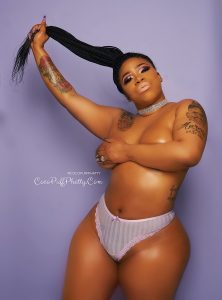 I go by the name "Coco" .. CocoPuffPhatty AKA THE GODDESS OF THE FREAKS! I was born and raised in the beautiful twin island of Trinidad & Tobago but I currently reside in Washington Dc. I love to eat, drink, listen to music and have ah good time! I enjoy outdoors and nature and would love to travel the world before I die!
How does it feel to know so many strangers are aroused by your clips, posts, tweets, etc ?
Shall I just say like the Goddess I am! This is what I do .. it's what I live for. I like horny men to sit behind their screens and beat their meat just by the sound & thought of me while their girlfriend is in the other room taking care of their kids! Damn, just thinking of that is making me wet lol 
Tell us tattoos and piercings. How many do you have? Where are they? Which is the most recent? Which was the most painful?
Yesss! I have a little of both currently! I have 7 tattoos and 9 piercings. My most recent tattoo is the elephant piece I got to represent strength on my arm it's so cute and my most recent piercing is my tragus piercing. I'll have to say the most painful piercing was my nipple piercings .. hence the reason why I haven't got them redone yet after this dude swallowed one of them! 
recent Tweets





















Mone Divine Loves Sucking Two Cocks At Once, But Prefers A Dp Threesome blackgirlfetish.com/mone-divine-lo…

Sydnee Capri And Kapri Styles Offer Their Black Pussies For Cock blackgirlfetish.com/sydnee-capri-a…

Sinnamon Love Proves Black Is Beautiful blackgirlfetish.com/sinnamon-love-…

Hypnotic aka Hypnotiq blackgirlfetish.com/hypnotic-aka-h…

3 Lesbians In The Locker Room blackgirlfetish.com/3-lesbians-in-…

Sydnee Capri And Kapri Styles Offer Their Black Pussies For Cock blackgirlfetish.com/sydnee-capri-a…
















Jada Fire Fucks On The Sex Store Floor In Pov blackgirlfetish.com/jada-fire-fuck…

Jada Fire And Misty Stone Go All The Way blackgirlfetish.com/jada-fire-and-…

Pair Of Sexy Ebony Hotties blackgirlfetish.com/pair-of-sexy-e…










Abused by my niece. I used to be a gangster, now I carry dog poop bags (empty) in my pocket......... and get beat up by 7 year olds instagram.com/p/CRqYzQYr1Tn/…