BONUS CONTENT
If I was to count my tattoos individually I have over 40 – @Brownbooty94
Posted on May 16, 2021
Charlie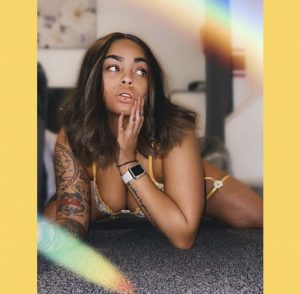 Let me introduce myself I go by the alias brownbooty, I'm 26 years old wife, I was born in the south of England and moved to the north 3 years ago! I have 3 children and my hobbies are probably anything relaxing lol. 
How does it feel to know so many strangers are aroused by your clips, posts, tweets, etc ?

I started sex work in Oct 2020 to help with my body confidence as it was at an all time low so for me that's the best part, the fact that other people want to see me and pay me to be honest 
Tell us about your tattoos, how many do you have? Where are they? Which     is the most recent? Which was the most painful?

If I was to count individually I have over 40 but counting my sleeve and my leg as one each I have 25! I have almost a whole sleeve on my right arm, one that goes from my thigh to my ankle on my right leg, a couple on my left arm, collarbones, ribs, back of the next, shoulders, fingers, ankle and bikini line  most painful was either my fingers, foot or ribs! 
Charlie always has a face full of ass
Posted on March 12, 2021
Charlie
Worship that ass
Posted on February 26, 2021
Charlie
facesitting 69 with Royalty ( Mrs FEEDME )
Posted on February 18, 2021
Charlie
Charlie just bought Royalty a bra and panty set. She decides to reward his good deed by smothering him with her butt. She does go a little easy on him and plays with his cock too.
How about a lap dance Charlie?
Posted on February 02, 2021
Charlie
Time to get wet
Posted on January 01, 2021
Charlie
Full service massage
Posted on November 11, 2020
Charlie
Every Goddess receives full service when requested. Massage service is always on the menu
Rapid fire ass worship
Posted on October 18, 2020
Charlie
We know that a nice round ebony bubble butt is one of Charlie's many weaknesses. This is just a handful of his his favorite ass worshiping adventures.
femdom massage too with Milian Manson
Posted on September 11, 2020
Charlie
What can we say, another hot femdom massage scene with Milian Manson. Milian knows how to treat Charlie just well enough to get her desired results. Today she may play with Charlies cock a bit while his skilled hands are working, but only one person gets complete satisfaction in this scenario….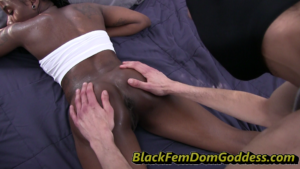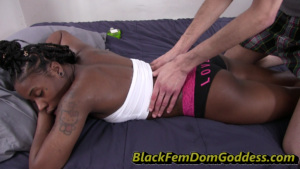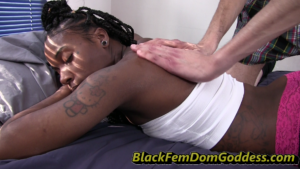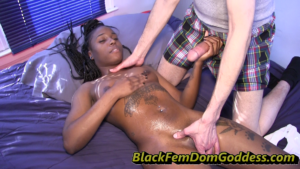 Queen Semira "I asked his level he said 7 and I remember having the biggest smirk" @QueenSemira
Posted on September 07, 2020
Charlie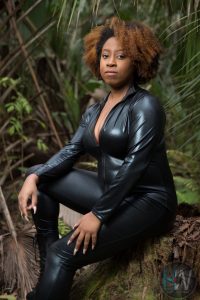 I've Been Queen Semira since 2013 My mentor was a Findom therefore i came to the scene as a Findom as of now i'm a Lifestyle Femdom & Professional Dominatrix. I was born in Cleveland, OH and i'm now based out of Orlando, FL. 
How does it feel to know so many strangers are aroused by your clips, posts, tweets, etc ?
I really don't mind that strangers are aroused by my content, I actually want them to be aroused that's how i pull them in really. Atrraction makes bdsm possible!
Bondage Knows No Color – An anonymous submission
Posted on September 01, 2020
Charlie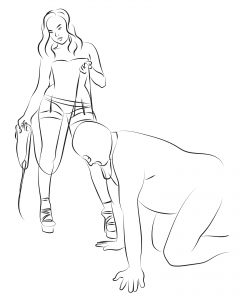 Do you want to be dominated by black femdom who love to make their white boyfriends do nasty things? Are you looking for an inter racial sexual experience with a goddess femdom? Do you want your fantasies to be blindfolded, cuffed to a chair, and fucked by a femdom black lady? It is time for some adventure!
Getting tied up for an erotic stimulation is an act Evey man looks forward to, regardless of color. Bondage knows no color! Get bound. Be tied to a stake and be teasingly fondled and your balls caressed by a goddess femdom. This feels better than a trio to Disney Land.
Emotion, sex, fun, feelings, whatever, have no respect for color. Whether you are white or black, you re under the control of these feelings except you do not get in touch with the person that has the right key to unlock your soft dpot?.
Introducing bondage to your sex life with your femdom black girlfriend is fun and adds a suspense to your sex adventure. Meanwhile, you get comic relieves in between possibly when see sucks your hardrock dick or presses her succulent boobs on your face.
Falling into the hands of a black goddess femdom and surrendering to her control is therapy to fulfil your fantasies and make you have a satisfactory sex. Nothing can be more sexually arousing than having your hand and feet cuffed to the bed and a black femdom teases you, making you to pass through various female domination torture.
You do not want to be told how much fun worshiping a goddess femdom's ass and curvy body is. From pussy licking to eating more nasty than you can ever imagine, bondage just makes your vulnerable to diverse slave treats that linger for a long time in your memories.
Forget about your color; bondage is good for everyone. Black femdom babes for white boyfriends have some special sexual therapies for you. GT out of your limitations and explore sex in the most extreme manner with femdom black girls. Feel among. Be bound. Be dominated. Clean your mistress's pussy by sucking the juice out and appear her anger with flicks of tongue on her clit.
Do not be left behind; try bondage with a sexy back femdom – it is an experience of a lifetime. If you want raw fun, serving a goddess femdom is worth attempting. Become a smothering slave to a black sexy dominatrix and have a wonderful time. Remember, bondage know no color, max out your sexual life.
Kinky Black Babes – An anonymous submission
Posted on August 10, 2020
Charlie
Is your fantasy to serve a black goddess femdom? Are you fetish and looking to try some nasty things with femdom black babes? Do not stress out; you are in for fulfilling moments you have been dreaming about.
Spending some time with kinky black babes will leave you asking for more. In the entire world, black femdom babes are renowned for creating intense, awe-inspiring, and electrifying sexual experiences. Obeying the command of your goddess femdom, you will never be able to bottle your feelings as your dick will undoubtedly betray the gush of energy in you waiting to be unleashed.
Black babes are electrifying. From big and round assess to succulent big boobs, you will have your fantasies fulfilled in no time. Kinky black babes are the best dominant women to choose if you desire to be submissive and get ordered around. Whether you want to have fun with party play, face sitting, or some forceful handjobs, black femdom babes are your best options.
You unavoidably must need the command of your goddess femdom. Whether she asks you to strip or kneel in front of her, you dare not disobey her highness's order. Follow each order; you might be lucky to stick tongue deep in her ass as a reward for your obedience.
Remember, you are a slave to that goddess femdom babe. She may cuff you to the door and grab you by your balls, ordering you to suck on her big brown boobs. You dare not groan. She may ask you to lie on your back and sit on your face? Ensure you do an excellent tongue work and eat the pussy as if you have starved for days. Make her cum on your face – you will always check the experience.
Black femdom girls are adorable and will fulfill each of your fantasies. You cannot have enough of them, as you keep asking for more. You have to be submissive and follow her each step in the journey to the beautiful realm of satisfaction.
The best part of your experience with curvy, kinky femdom is when she asks for your head down between her thighs. It is time for some juicy flesh-eating. You cannot resist the inviting look of that luscious, yummy pussy. Do a great job below and get booked for another round. Hail your goddess femdom, black babe!
What is your wildest imagination? You can have it fulfilled with kinky black babes. Look forward to the experience; you will be glad you did.
Yes, Black Women are Kinky – An anonymous submission
Posted on July 10, 2020
Charlie
Submissives often hide their identity. Here at www.totalfetishxxx.com we want to give every fetish enthusiast platform and format to share experiences and fantasies. Enjoy and your turn is next… 
Have you ever imagined being held subservient by a femdom goddess? Do you ever want a different sexual thrilling experience held down and kept on your toes till your black women mistress let you cum? Never stress out; black women are the 'kinkiest' when you want to have a great BDSM sexual escapade.
Just the mention of 'black women' conjures up the imagination of a dark-skinned, overweight or slim, busty, and sexy woman. There is undoubtedly something intriguing about black women – yes, black women are kinky, and you would like to play the sex slave with one soon. Black women are the goddess of sex. They know how to throw you off balance and take you through the sensory stimulation to land you in the realm you have always thought was illusory.
"I never say never, I would do everything at least once" @prettydior3
Posted on April 19, 2020
Charlie
My name is Pretty Dior I was born in East London but I currently live in South East London. My hobbies include photography and drinking ( in that order )
How does it feel to know so many strangers are aroused by your clips, posts, tweets, etc ?
I feel ok about it, I like that people like the way I look, I like that I'm making at least some people happy
Tell us about your piercings
I have 4 piercings in my ear and my nipple pierced. The most recent and most painful was my nipple by far ?
13 minutes of ass eating with Carmen
Posted on April 18, 2020
Charlie
Carmen loves how Charlie is such a devoted servant. He never stops until ordered. Carmen is going to put him to the test today. Today ass eating is on the menu and not just a 2 or 3 minute session. Today it is going to be 13 plus minutes of ass eating. Enjoy Charlie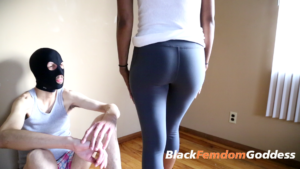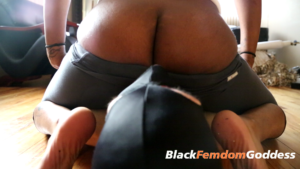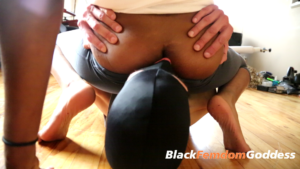 " I like horny men to sit behind their screens and beat their meat just by the sound & thought of me while their girlfriend is in the other room taking care of their kids! " @Cocopuffphatty
Posted on April 18, 2020
Charlie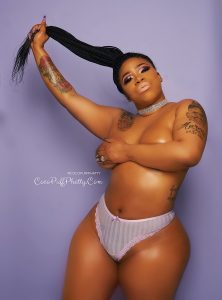 I go by the name "Coco" .. CocoPuffPhatty AKA THE GODDESS OF THE FREAKS! I was born and raised in the beautiful twin island of Trinidad & Tobago but I currently reside in Washington Dc. I love to eat, drink, listen to music and have ah good time! I enjoy outdoors and nature and would love to travel the world before I die!
How does it feel to know so many strangers are aroused by your clips, posts, tweets, etc ?
Shall I just say like the Goddess I am! This is what I do .. it's what I live for. I like horny men to sit behind their screens and beat their meat just by the sound & thought of me while their girlfriend is in the other room taking care of their kids! Damn, just thinking of that is making me wet lol 
Tell us tattoos and piercings. How many do you have? Where are they? Which is the most recent? Which was the most painful?
Yesss! I have a little of both currently! I have 7 tattoos and 9 piercings. My most recent tattoo is the elephant piece I got to represent strength on my arm it's so cute and my most recent piercing is my tragus piercing. I'll have to say the most painful piercing was my nipple piercings .. hence the reason why I haven't got them redone yet after this dude swallowed one of them!