BONUS CONTENT
"I was born to be my own boss, and apparently I'm a good boss of others too" Interview with @THRASHERBRAT
Posted on July 07, 2019
Charlie
Miss Thrasherbrat is here to guide you through submission, every step of the way. I am 22 years old with two deliciously caramel double d tits that can't help but tease the weak and horny. I've got powerful thighs, strong and firm from lifting and jogging, along with my calves. my ass… well it's tiny, but muscular. real squishy when I squish it though which I still don't understand but… well… you can be the judge and tell me if physics even applies to my ass hahaha. Not to mention I have the cutest toes in the world. The wrinkles in my soles will send you to heaven. You have no idea how fucked you are about to be. I've been dominating one on one for about three years. I mainly enjoy online financial and female domination by way of calling, camming, video messages, and text but i'm open to new ideas. I am a tattoo model and bb cosplayer – including collaborations with suicide girls, fitness enthusiast, and ex comedian. Basically, I've been raising hell since birth and I'm inviting you to come with me, if you're not too scared.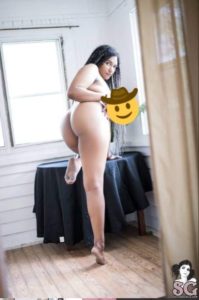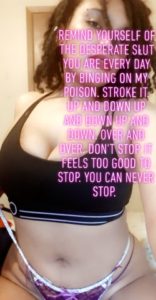 How does it feel to know so many strangers are aroused by your clips, posts, tweets, etc ?
It makes me feel good. A lot of sexuality is suppressed and because so much of bdsm and those in it are ostracized it warms my heart to be able to reach people who probably feel very alone and confused in their lives. Sure, a lot of creeps and weirdos get their hands on my shit but there can't be good without bad, as long as they stay quiet and creep harmlessly from a distance I don't care. Maybe one day they'll feel empowered enough to step up and take their bdsm journey a step further through me. Who knows.
recent Tweets

You've been asking... new video up on Modelhub: modelhub.com/video/ph609a26…

Be the first to get my new Modelhub video: modelhub.com/video/ph609a26…

You've been asking... new video up on Modelhub: modelhub.com/video/ph609a26…

If you really love me, you'll watch my new Modelhub video: modelhub.com/video/ph609a26…



facesitting 69 with Stephanie Kim XxX blackgirlfetish.com/stephanie-kim-…


Birthday Cake Smash foot worship special blackgirlfetish.com/birthday-cake-…

worship my tits Charlie with Melody Cummings blackgirlfetish.com/worship-my-tit…



Lap dance tease with handjob blackgirlfetish.com/lap-dance-teas…

Femdom massage service blackgirlfetish.com/femdom-massage…

mid afternoon ass eating with Milian Manson blackgirlfetish.com/mid-afternoon-…


facesitting 69 with Stephanie Kim XxX blackgirlfetish.com/stephanie-kim-…

Nearly 20 min of ass clapping blackgirlfetish.com/nearly-20-min-…

Wedgies in Yellow panties, you know you love it… p1 blackgirlfetish.com/wedgies-in-yel…



Extra wet booty clapping in the shower p1 blackgirlfetish.com/blackfemdomgod…

Rub my feet while I pat my pussy blackgirlfetish.com/blackfemdomgod…

@BarbieCharlie7 I am but not very active at all. This is my third or fourth account

Full Femdom Shower Service blackgirlfetish.com/blackfemdomgod…

Panty Play with CoCo Kisses blackgirlfetish.com/blackfemdomgod…

Body Worship and Edging Session blackgirlfetish.com/blackfemdomgod…

54 inches of Ass Worship blackgirlfetish.com/blackfemdomgod…

Ms Ready Ass Play blackgirlfetish.com/blackfemdomgod…


Do you like my panties Charlie? blackgirlfetish.com/do-you-like-my…

triple toy play tease blackgirlfetish.com/triple-toy-pla…


mid afternoon ass eating with Milian Manson blackgirlfetish.com/mid-afternoon-…

37 weeks and 15 minutes pregnant belly joi blackgirlfetish.com/37-weeks-and-1…

Fresh Air Ass Worship blackgirlfetish.com/fresh-air-ass-…

You've been asking... new video up on PornhubModels: pornhub.com/view_video.php…



Fresh video on Modelhub - get it while it's hot: modelhub.com/video/ph608f8d…

I've been craving siting on your face – Estelle blackgirlfetish.com/ive-been-cravi…

Foot worship on a leash blackgirlfetish.com/blackfemdomgod…

Nyomi Roze directs Charlie through a message session blackgirlfetish.com/blackfemdomgod…

Twiggy lets Charlie get some blackgirlfetish.com/blackfemdomgod…

Spying on Neevie getting dirty in the shower blackgirlfetish.com/blackfemdomgod…