Bonus Content
| "my boobs often overshadowed by my ass" – Interview with @dinkluXXX
"my boobs often overshadowed by my ass" – Interview with @dinkluXXX
Posted on July 06, 2019
Charlie
Denali Dink Lu Please introduce yourself –  I was born in the midlands of the UK and currently still live in the midlands but a different part out in the country where it's beautiful and quiet! My hobbies are pretty hippie-ish and I love to do yoga, hula hoop, cool vegan food and bake! I also really love animals and spend a lot of time learning about them and I have rescued a few cuties!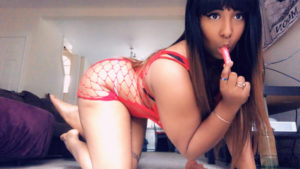 How does it feel to know so many strangers are aroused by your clips, posts, tweets, etc ?
I think it's pretty hot. I love being watched or knowing someone is enjoying themselves sexually thanks to me! It's empowering and really builds my confidence.
How long have you been a vegan? Was it a long transition or did you go cold turkey? I've been a vegetarian for around 4 years, I eat very little dairy, but I haven't gone full vegan yet.
Well done! 4 years is a long time! I have been vegetarian all of my life and went vegan about 2.5 years ago now and it was a natural transition for my health and love for animals!
Do you have any tattoos or piercings ? If yes,how many do you have? Where are they? Which is the most recent? Which was the most painful?
I actually used to have 12 places pierced all over my body but now only have 4 🙁 everything good must end! I have 4 tattoos, 3 being on my leg (which I hope to fill one day) and the other on my forearm. None of them really hurt at all!
What is the most creative pickup line you've ever heard?
It was actually along the lines of "are you today's date, cus you're 10/10" it worked haha.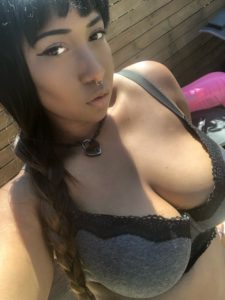 Are you a dom, sub, or switch in your personal life?
In my personal life I'm definitely more sub leaning. However elements of switch behaviour have developed the more I dom in my work life! Experimenting is exciting
What is the most sensitive part of your body?
Definitely my feet! They're soft and tender so easy to make me squirm by touching
What is something you haven't done on a shoot that you've wanted to try? Is there anything you think you'll never do sexually?
I've always wanted to try tickling, I love the sensation and think I'd be both a great ticklee and tickler! As far as never trying something I would never say never, I'm open to trying things to see if I like it!
What part of your body do you feel goes underappreciated?   
For sure my boobs, I mean they do get attention but are often overshadowed by my ass.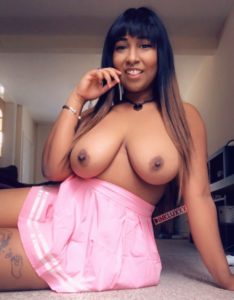 Most girls say they like the interaction with fans through CAMs and social media, in just a few words how would you describe your fans?    
Most of my fans are so kind and caring. They really care for my well being as well as what work I'm going to create next, which is heartwarming when i sometimes feel quite alone in the online world.
Do you visit adult sites? If yes do you have a favorite niche?
I do! I really enjoy For Women porn that focuses more on the process of pleasure, rather than just the acts and the female body.

Do you watch your own movies? Does it turn you on?
Aside from editing I actually don't watch my own movies. Partly it seems kind of weird seeing myself and then I start to critique my performance which is never good!
What is something people always assume about you and are always wrong about?
A lot of people assume I'm materialistic. Money is a huge part of my life as I'm having to make it in an unconventional way without any assistance or a company to fall back on. This "pay for play" attitude sometimes makes people think I'm all about money and gifts but that's not the case! I appreciate life more than anything and the experiences people can offer me throughout.
What is the next, project, shoot, etc?
I'm focusing a lot of my energy into live shows at the moment and creating different environments for people to consume my content in a way that suits them!
Are guys intimidated by you?
Not that I've noticed, perhaps they are before they speak to me but after that, it's clear I'm a sweetheart
Where can your fans find you? Sites, twitter, etc
I'm all over the web but dinklu.com has all your video needs and my Twitter (with all my other links in the pinned tweet) can be found here – @dinkluXXX