Bonus Content
| "I am a sub. Period. And it really cheeses me off that ppl don't respect the fact that i'm a sub and just let me sub." @YovngGodElle
"I am a sub. Period. And it really cheeses me off that ppl don't respect the fact that i'm a sub and just let me sub." @YovngGodElle
Posted on July 20, 2019
Charlie
I am 29, DC native, qwoc. Hobbies include watching porn, smoking and writing poetry. Referred to as Princess or Babygirl. Im a whole nerd so anime, chess and books literally run my life. Goofy as hell. Tiny as fuck. Bratty mcbrat brat.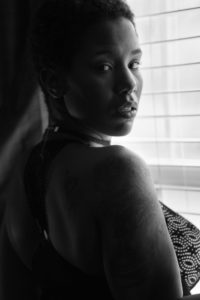 How does it feel to know so many strangers are aroused by your clips, posts, tweets, etc ?
I fucking (can i curse? Cause im going to) love it. It honestly makes me want to jump on my bf and suck his dick.
Do you have any tattoos or piercings ? If yes,how many do you have? Where are they? Which is the most recent? Which was the most painful?
I have 16 tattoos. 1 piercing. My most recent is my wrist. The most painful was my wrist lol
How long have you been a content creator? What is your favorite platform, Onlyfans, Manyvids, clips4sale, etc.
Ive been doing this for 2 years almost. I'm only on twitter and manyvids.
What is the most creative pickup line you've ever heard?
A couple days ago a woman came in my inbox and told me "i hope you find the woman you're looking for in me." I liketa died.
Are you a dom, sub, or switch in your personal life?
I am a sub. Period. And it really cheeses me off that ppl don't respect the fact that i'm a sub and just let me sub.
What is the most sensitive part of your body?
My ears.
What is your wildest or most unexpected experience on a shoot?
The fucking swing FELL. lordddddddd i had a good laugh.
What is something you haven't done on a shoot that you've wanted to try? Is there anything you think you'll never do sexually?
I want a MMF threesome. Badly. I will never let a man cum on my face.
What part of your body do you feel goes underappreciated?
My back.
Who is the most fun and/or laidback person you've ever worked with?
My boyfriend. 🥰
Most girls say they like the interaction with fans through CAMs and social media, in just a few words how would you describe your fans?
My fans are the sweetest ppl on the planet. They take care of me, emotionally, more than anything. As SOON as i beg for attention or present an issue, they're to my rescue. I love them.
Do you visit adult sites? If yes do you have a favorite niche?
Male solo
Do you watch your own movies? Does it turn you on?
Yes and YES
What is something people always assume about you and are always wrong about?
That i'm more aggressive than i actually am.
What is the next, project, shoot, etc?
I plan to shoot with math bae.
Are guys intimidated by you?
Yup. Don't know why. I'm harmless.
Where can your fans find you? Sites, twitter, etc.
@YovngGodElle on twitter.