BONUS CONTENT
Stoner Beckii scrumptious midwest MILF @StonerBeckii
Posted on March 08, 2020
Charlie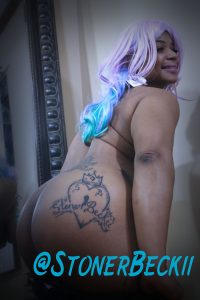 Meet Stoner Beckii
"
I'm Detroit grown on the Westside of Da D off Joy Rd. Until I was 18. Then I spent 5 yrs. exploring Michigan & visiting a few friends in other states. My hobbies Are painting, biking, playing with water, & visiting NEW places & experiencing NEW things!
"
How does it feel to know so many strangers are aroused by your clips, posts, tweets, etc ?
Truly it excites me to know that people are even interested.
Do you have any tattoos or piercings ? If yes,how many do you have? Where are they? Which is the most recent? Which was the most painful?
Yesss, I have tattoos and all my piercing holes are closed except my ears. I have nine tattoos two are on my chest; one is on my upper back and one on my lower back, a tattoo on each ass cheek, my right outer thigh, and both calf muscles on the outside. My one on my right ass cheek is the newest it's my name StonerBeckii! The one on my lower back hurt the most hands down!