Bonus Content
| " I almost feel bad by saying my own porn turns me on, but it does! I make the porn that I want to watch." @PandorasFunBox
" I almost feel bad by saying my own porn turns me on, but it does! I make the porn that I want to watch." @PandorasFunBox
Posted on March 28, 2020
Charlie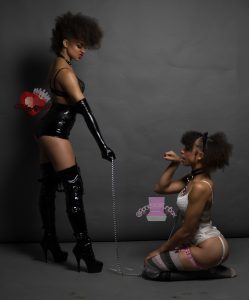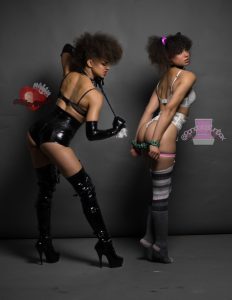 Please introduce yourself
I go by a couple different names, depending on where you land on the kink spectrum. Majority of my followers – whether vanilla or kinky – refer to me as Pandora, but my more submissive fans and subs call me Goddess Ruby Afrodite. I've been in the sex industry, I'd say just about my whole adult life. I was very active in the kink scene early on, starting with my FetLife profile I made as soon as I turned 18(2013). That's where I'd post sexy pictures, little rope things I'd try out, just anything I thought was kinky. I started to make kinky friends offline and in real life. My connection in the leather scene led me to doing bondage photoshoots, softcore videos, and GoGo dancing at monthly fetish events. From then I would work at events as a rope bunny or stage kitten. I had gotten my hand working in the industry before I turned 19.
I've been Domming now since July of 2017. I'd always described myself as a switch, but had never actually had my own submissives until around this time. I started a Twitter account named @RubyAfodite and started posting enticing pics, welcoming subs to make tributes and serve me, and it didn't take long until willing cucks came begging. A Domme friend of mine who I am close with in real life gave me great advice and helped me get rolling on NiteFlirt as a phone/sext worker, and that got me noticed even more. I was steady posting my taunts, drain games, and selling feet pictures for about two years until considering widening my horizons for content.
I wasn't only in the kink scene, and I had been stripping already so I figured why not bring it online. I had been seeing so many other successful women around me doing the same, and checking a big bag, plus it looked fun! I created a new profile on Twitter in October 2019 named @PandorasFunBox to use on a more regular basis and sell a wider variety of content, while still advertising my Domme services. From there I started posting on OnlyFans, selling videos on ManyVids, and selling custom content.
Outside of the sex industry I am passionate about food and the arts, as well as the ecosystem and animals. Before I made this my full time job I was sous-chef at a French bistro. I've always had a drive to create things and food is one of the fundamental needs we have as living things, so I find the culinary world to be really beautiful and inspiring. I love to make people smile in one bite. I also love the effect music has on people, as well as visual arts like painting or sculpting. Art kind of runs in my family, and I've always appreciated it. Soon, within the near future(maybe VERY near, thanks to COVID-19) I am kicking off my Twitch streaming account and can incorporate my other passions, including gaming, into my work! I want to be more personal with my followers, and show more than just my boobies.
How does it feel to know so many strangers are aroused by your clips, posts, tweets, etc ?
I love knowing that my content turns people on. My goal is to make my customers feel good, so to know I'm fulfilling my job is rewarding and makes me feel good in return. I have a great time making my content, and I want it to be enjoyed to the fullest.
Do you have any tattoos or piercings ? If yes,how many do you have? Where are they? Which is the most recent? Which was the most painful?
I only have one little tattoo so far (small cat on my right hipbone), and other than my ears I only have my bellybutton and my nipples pierced. Most people would guess the nipples hurt the worst, but the bellybutton definitely sucked the most! The tattoo just felt like a really annoying itch.
How long have you been a content creator?
I've been creating content for almost three years now. Full time for about five months so far. I post most of my content on OnlyFans but sell longer videos on ManyVids. I have camming profiles on both MyFreeCams and Chaturbate, but I've yet to go live on either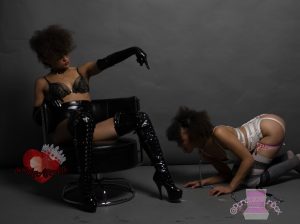 What is the most creative pickup line you've ever heard?
I don't think I've ever heard a creative pickup line. For me, you've gotta pick a topic of mutual interest that we can talk about for hours. My current partner did it by talking with me about music and food. Find out what they like and go from there.
Are you a dom, sub, or switch in your personal life?
I am a switch. I'm usually very dominant, but I get submissive for the right people.
What is the most sensitive part of your body?
The most sensitive part of my body would have to be either my neck or my clit.
What is your wildest or most unexpected experience on a shoot?
The most wild or unexpected experience on a shoot…. Hmmmm this one is a very tough one because I've never experience anything particularly wild or unexpected on a shoot before. I've had photographers or crew people act absolutely inappropriately before, but that's unwarranted, not unexpected. I shoot mostly myself or with my partner at home, now.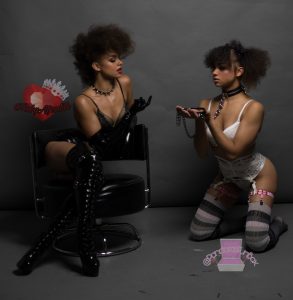 What is something you haven't done on a shoot that you've wanted to try? Is there anything you think you'll never do sexually?
I haven't gotten comfortable with anal yet, but we're working towards that. I definitely would like to conquer that within the next couple months, as it is very highly requested. There are only a few things I would consider a hard limit for me. I will not consume anyone's – including my own – scat, urine, etc. And I will not engage in race play.
What part of your body do you feel goes underappreciated?
I can't really say anything on my body goes underappreciated. I can honestly say I am absolutely confident in my whole body and receive praise pretty consistently overall. I hate saying that because it sounds bad, but I'm not ignorant to my own appearance.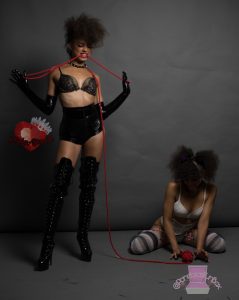 Who is the most fun and/or laidback person you've ever worked with?
The most fun and laid back person I've ever worked with is my partner. We can go from focused work to laughing and having fun in moments, and it never gets old.
Most performers say they like the interaction with fans through CAMs and social media, in just a few words how would you describe your fans?
I love interacting with my fans! That's why I want to get more personal with them and show my true self! They are multi-dimensional people just like I am, and getting to know each of them has been so fun for me. Some of them are just kinda there to do their thing and don't talk to me much, but most of them love to get to know me as well. I've gotten to be good friends with some of them and talk about random things like our pets!  
Do you visit adult sites? If yes do you have a favorite niche?
I haven't visited adult sites in so long, only because I've run out of time by creating and working on my own content! I haven't found the time to watch porn in so long because when I'm masturbating I'm always like, "well I should be filming this," so I never really watch porn to get off anymore. It's honestly quite sad. I do support my fellow workers when I can, though! It's important to me!
Do you watch your own movies? Does it turn you on?
I'm constantly watching my own videos because I edit them myself. Sometimes I'll be in the middle of an edit and I'll get totally distracted because it'll be really hot and it turns me on! I almost feel bad by saying my own porn turns me on, but it does! I make the porn that I want to watch.
What is something people always assume about you and are always wrong about?
People always assume I'm very sweet and innocent when they judge me based on my looks. It's partially true, because I think I am very sweet, but boy am I FAAAARRRRR from innocent!! They usually figure that out pretty quickly, though.
What is the next, project, shoot, etc?
My next project is to get my Twitch up and running. Almost there!
Are guys intimidated by you?
Many men are intimidated by me, but that's the goal of a Domme, right? To intimidate the lesser. The level of intimidation lets me know how subby they are.
Where can your fans find you?
Fans can find me on Twitter either @PandorasFunBox or @RubyAfordite for my more subby fans.

I post daily content on OnlyFans.com/PandorasFunBox

Catch me camming in the future either on MyFreeCams or Chaturbate.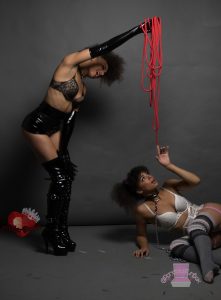 Thank you
Pandora/Ruby