Bonus Content
| Are guys intimidated by you? "Yes they are because I am one of a kind" @TenderMontanax
Are guys intimidated by you? "Yes they are because I am one of a kind" @TenderMontanax
Posted on December 06, 2019
Charlie
Hi, I'm Tender Montana, an amazon standing 5'11 with a bubble butt . I'm from Jersey City, New Jersey where I currently still live  . My hobbies are making money and spending time with my family.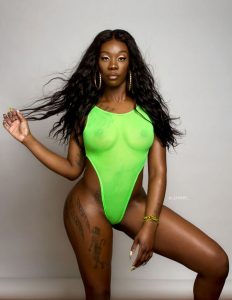 How does it feel to know so many strangers are aroused by your clips, posts, tweets, etc ?
It feels good to be lusted honestly. I was always over looked growing up so to grow into a swan , its amazing .
Please tell us about your tattoos and/or piercings ? How many do you have? Where are they? Which is the most recent? Which was the most painful?
I have six piercings which include my tongue, lip, chess, belly button , clit and ass crack . I have lost count of tats and plan on getting more because I love decorating myself … lol . My most recent piercing was actually this week ; my tongue and its my third time doing it . My most recent tattoo is is my arm sleeve . My most painful was my lower back tattoo and chess ; most painful piercing was my nipples when i did have them.
How long have you been a content creator? What is your favorite platform?
I have done porn off and on for eight years but took it more serious in June 2019. My favorite is onlyfans to display my talents to my fans.
What is the most creative pickup line you've ever heard?
"I want to invest in you "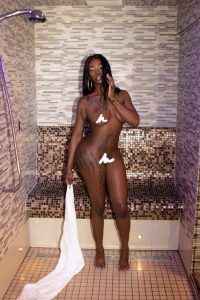 Are you a dom, sub, or switch in your personal life?
I would say dom because I take no shit !
What is the most sensitive part of your body?
My nipples
What is your wildest or most unexpected experience on a shoot?
Me role playing as Venus Serena because I didn't know how serious he was about me acting like her in a porn.   
What is something you haven't done on a shoot that you've wanted to try? Is there anything you think you'll never do sexually?
Anal but its gotta be on my time and I have to make all the money off it . I think I'm pretty open to all sexual acts because I love pleasing men .
What part of your body do you feel goes underappreciated?
None    
Who is the most fun and/or laidback person you've ever worked with?
Shit ! so many , where do i actually start ! King Nasir , Mrs Feedme , Rico strong , Rich Da Piper
Most models say they like the interaction with fans through CAMs and social media, in just a few words how would you describe your fans?
Amazing because as many times they delete me they find me and follow me on social media  
Do you visit adult sites? If yes do you have a favorite niche?
Yes I do . No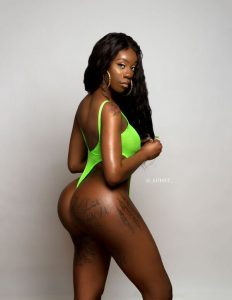 Do you watch your own movies? Does it turn you on?
Hell Yes , i love watching me fuck and suck.
What is something people always assume about you and are always wrong about?
That I'm mean
What is the next, project, shoot, etc?
A shoot with MrsFeedme and my own power shoot with a big surprise so stay tuned !
Are guys intimidated by you?
Yes they are because I am one of a kind . I stand 5'11 , look mean , got a lot to offer , smart AF and my ass FAT !
Where can your fans find you?
https://linktr.ee/tendermontana

Instagram : @its_tendermontanax

Twitter : @tendermontanax