Bonus Content
| "You can get sex anywhere. But you can't get a woman who knows your deep secrets of sucking toes and getting aroused and turned on. I provide a Fetish safe haven" @QUEENOFSOLEZ
"You can get sex anywhere. But you can't get a woman who knows your deep secrets of sucking toes and getting aroused and turned on. I provide a Fetish safe haven" @QUEENOFSOLEZ
Posted on January 13, 2020
Charlie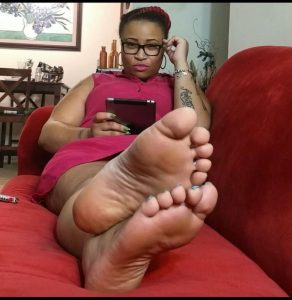 It's Queen Of Solez. I am a pro Foot Fetish model and content creator. I'm from Virginia but currently living the Queens life in Charlotte NC.
I enjoy making men weak and draining their power .
How does it feel to know so many strangers are aroused by your clips, posts, tweets, etc ?
I absolutely love it …. I derive a great sense of power from the source of the souls of men.
Are you a fulltime dominatrix / mistress / Goddess? For those who aren't that familiar with the terms is there a difference? Or is it just preference?
I'm a full time Goddess … full time Queen. The terms are about the same to me … as long as you put some respect on my NAME !
What is something you haven't done in a session that you've wanted to try? Is there anything you think you'll never do within BDSM or fetish?
I want to try some punishment like whips and chains and total domination. I will never try tickling again! I hate it lol.

 
How long have you been a content creator? What is your favorite platform

?
I've been a creator for five years now . My favorite platform was ManyVids but now it's OnlyFans
How do you respond to someone that says fetish and BDSM is just about kinky sex and getting off?
I would beg to differ. You can get sex anywhere. But you can't get a woman who knows your deep secrets of sucking toes and getting aroused and turned on. I provide a Fetish safe haven .No judgement zone !
Do you believe some can truly be a "switch"?
Yes
What is your favorite type of femdom activity?
Foot worshipping….. Ass worship ,Trampling,Pee Fetish
What is the most sensitive part of your body?
My clit
What is your wildest or most unexpected experience in a session?
I was about to give a guy a foot job and i stroked his dick twice and he came everywhere i was shocked ! But hey they don't call me Queen of Solez for nothing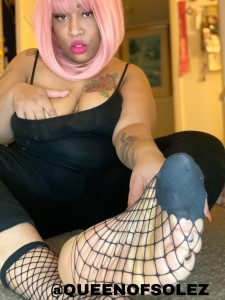 Most performers/content creators say they like the interaction with fans through CAMs and social media, in just a few words how would you describe your fans?
My fans are from all walks of life and I love it they love me and I love them !
Do you visit adult sites? If yes do you have a favorite niche?
I check Pornhub … I'm kinda into the anal videos I'm freaky
Are guys intimidated by you?
Of course .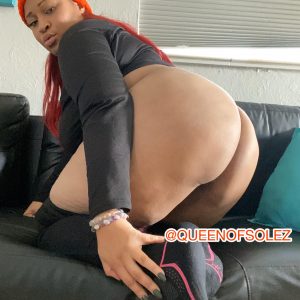 Where can your soon to be fans find you? Sites, twitter, etc

Twitter.com/QUEENOFSOLEZ

OnlyFans.com/QUEENOFSOLEZ