Bonus Content
| Stoner Beckii scrumptious midwest MILF @StonerBeckii
Stoner Beckii scrumptious midwest MILF @StonerBeckii
Posted on March 08, 2020
Charlie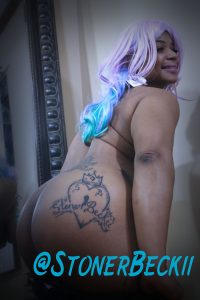 Meet Stoner Beckii
"
I'm Detroit grown on the Westside of Da D off Joy Rd. Until I was 18. Then I spent 5 yrs. exploring Michigan & visiting a few friends in other states. My hobbies Are painting, biking, playing with water, & visiting NEW places & experiencing NEW things!
"
How does it feel to know so many strangers are aroused by your clips, posts, tweets, etc ?
Truly it excites me to know that people are even interested.
Do you have any tattoos or piercings ? If yes,how many do you have? Where are they? Which is the most recent? Which was the most painful?
Yesss, I have tattoos and all my piercing holes are closed except my ears. I have nine tattoos two are on my chest; one is on my upper back and one on my lower back, a tattoo on each ass cheek, my right outer thigh, and both calf muscles on the outside. My one on my right ass cheek is the newest it's my name StonerBeckii! The one on my lower back hurt the most hands down!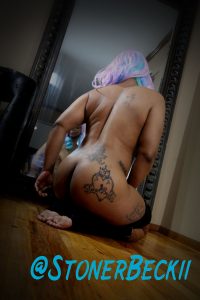 How long have you been a content creator? What is your favorite platform?
I consider myself to still be a newbie; but I have been on Manyvids  since 2016. I begin posting weekly since November of last year.
What is it like working with the guys at Totalfetish.com?
Would you shoot with them again?
Absolutely!
What is the most creative pickup line you've ever heard?
None
Are you a dom, sub, or switch in your personal life?
I'm a new hybrid breed of both! I dom on film but I'm a playful stoner @ the same time & in my personal life I live only w/my 3 kids.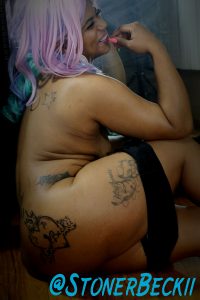 What is the most sensitive part of your body?
My most sensitive part of my body is the crease of my panty line Close to my hip.
What is your wildest or most unexpected experience on a shoot?
One of my co-worker fell asleep on set & his snoring was in the background audio.
What is something you haven't done on a shoot that you've wanted to try? Is there anything you think you'll never do sexually?
G/G/G+,DP, etc… a lot of them are being for filled now this year.!  ( I will never do ) BBC ANAL
What part of your body do you feel goes underappreciated?
Lol my calfs!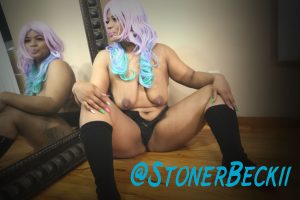 Who is the most fun and/or laidback person you've ever worked with?
A Buddy of mine Who sometimes is my camera guy!
Most girls say they like the interaction with fans through CAMs and social media, in just a few words how would you describe your fans?
Adventures explorers W/a Luv 4 MY ASS.!
Do you visit adult sites? If yes do you have a favorite niche?
Yes, not really I be all over the sites!
Do you watch your own movies? Does it turn you on?
No, it makes me laugh, criticize, & critique my work lol! but I do get third one when I'm editing my content lol
What is something people always assume about you and are always wrong about?
I'm too nice!
What is the next, project, shoot, etc?
So many to name! Mainly more collaboration with other models!
Are guys intimidated by you?
Not really. No
Where can your fans find you? Sites, twitter, etc
Twitter: @BeckiiMama IG: @StonerBeckii

Allmylinks :https://allmylinks.com/stonerbeckii