Bonus Content
| "I was born to be my own boss, and apparently I'm a good boss of others too" Interview with @THRASHERBRAT
"I was born to be my own boss, and apparently I'm a good boss of others too" Interview with @THRASHERBRAT
Posted on July 07, 2019
Charlie
Miss Thrasherbrat is here to guide you through submission, every step of the way. I am 22 years old with two deliciously caramel double d tits that can't help but tease the weak and horny. I've got powerful thighs, strong and firm from lifting and jogging, along with my calves. my ass… well it's tiny, but muscular. real squishy when I squish it though which I still don't understand but… well… you can be the judge and tell me if physics even applies to my ass hahaha. Not to mention I have the cutest toes in the world. The wrinkles in my soles will send you to heaven. You have no idea how fucked you are about to be. I've been dominating one on one for about three years. I mainly enjoy online financial and female domination by way of calling, camming, video messages, and text but i'm open to new ideas. I am a tattoo model and bb cosplayer – including collaborations with suicide girls, fitness enthusiast, and ex comedian. Basically, I've been raising hell since birth and I'm inviting you to come with me, if you're not too scared.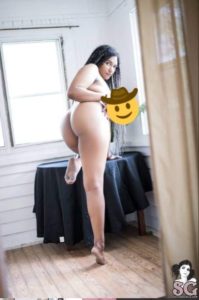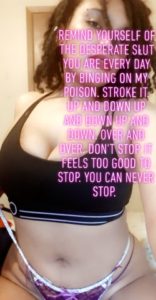 How does it feel to know so many strangers are aroused by your clips, posts, tweets, etc ?
It makes me feel good. A lot of sexuality is suppressed and because so much of bdsm and those in it are ostracized it warms my heart to be able to reach people who probably feel very alone and confused in their lives. Sure, a lot of creeps and weirdos get their hands on my shit but there can't be good without bad, as long as they stay quiet and creep harmlessly from a distance I don't care. Maybe one day they'll feel empowered enough to step up and take their bdsm journey a step further through me. Who knows.
Are you a fulltime dominatrix / mistress / Goddess? For those who aren't that familiar with the terms is there a difference? Or is it just preference?
Hey ya know I sure the f*ck am! And loving every moment of it (and yes that does mean i also love the small meticulous things a solo business woman has to take care of). I was born to be my own boss, and apparently I'm a good boss of others too. As for the terms, I don't really see a difference. I guess some people have preferences, like you suggested, I personally don't care. I'm fluid as fuck.
What is something you haven't done in a session that you've wanted to try? Is there anything you think you'll never do within BDSM or fetish?
Hmmm….. I don't think I'd be very into doing anything with piss or shit in person haha. Giving the illusion of a sexual experience involving poop would be ok or even better a phone convo! I love to talk about poop! And the idea of shitting on someone cumming from it is hilarious! But I most definitely would not be up for doing anything like that in person. Something I WANT to try? A walk to the atm. Like, on a leash and everything but in PUBLIC this time. Ugh… Such a dream.
How do you respond to someone that says fetish and BDSM is just about kinky sex and getting off?
They're either uneducated, insecure, or both. A lot of my sessions turn into the two of us just talking, he is able to convey these secrets he's held deep inside for so long, sometimes I'm the first person he's told. I mean, I hope that more accurate representations and information about bdsm will come to the public light but at the same time who needs the pressure of mainstream media. Let em stay square. Weirdos have more fun anyway.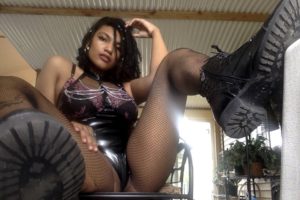 Do you believe some can truly be a "switch"?
YES!! ABSOLUTELY!! A big part of bdsm is intimacy and intimacy comes with trust. The way you act around a complete stranger is different than the way you act with someone you confide in and trust. If I'm being completely honest, I think most people are actually switches. The beauty of sexuality is that it can be fluid. No one is confined to just one thing. You can be into being punished AND having someone obey your every wish. There's levels to this shit 🙂
What is your favorite type of femdom activity? ( face sitting, ass worship, ball busting, etc )
petplay!!! I LOVE a good puppy!! I'm also a crazy dog lady – don't worry it's not beastiality or anything, I'm just really comfortable with dog training and it's fun and authentic to transfer that knowledge into my bdsm life. Plus another thing I'm really into is obedience and obedience training. Sit. Stay. Roll Over. Speak. Touch. Don't touch. Moan. Shut the fuck up, slut. It's really all a wonderful experience for me! Just do whatever the fuck I tell you to do and I promise we'll have a good time.
What is something people always assume about the BDSM and fetish lifestyle and are always wrong about?
That everyone is supposed to be wearing latex and sucking big ass real human dicks and wearing 10inch heels. Dominance can come in many forms, so can submission. There isn't just one type of beauty, every single color of the rainbow is beautiful and so is every single fetishist out there (except the ones who aren't very nice because they're mad they can't have sex with me, they can choke and die)
What is the next, project, shoot, etc?
I've been working on modeling, along with my fitness which has been a longtime passion of mine that I was feeling too depressed to continue in. Fortunately domming/sex work comes with modeling which led me to suicide girls, the perfect outlet for a little alternative weirdo like me. And with all the tattoos I'm planning on getting they're the perfect community for me to go to. In the past I've worked with a staff photographer and the entire time was super chill which is an atmosphere that is super important especially in a nude environment and industry. I can't wait to continue to get hella fit, hella tatted up, and continue to make hella weird, hELla sexy shoots for the coolest of the cool pervs to enjoy. Other than that I'm continuing to work with my love of all things artistic combined with my inner weirdness to keep making compelling fetish clips.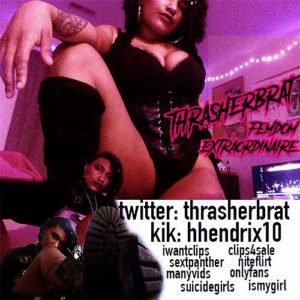 Are guys intimidated by you?
LMAOOOO. Yeuhh. But also like, they can't stay away from me. They do this run and come back and run and come back thing which is really funny to me. It's like they want me to get weak and miss them or something? No??? I just move along to something better duh! Oh! AND I get more fit while I'm at it, maybe a new tattoo or two. Make a couple hundo in a couple days, I'm ALWAYS alright. I'm always more than alright! I'm THAT BITCH. I've been trained to fight since I was 17 years old. Boxing and then on to kickboxing. Before that I was a lil scrapper, I've grown up fighting people way bigger than me and I'm not afraid to do it again. So in conclusion to your question: yes men are afraid of me and, why shouldn't they be?
Where can your soon to be fans find you? Sites, twitter, etc
my twitter is @THRASHERBRAT, my instagram is @SAINT.FODISH cuz that's my suicide girl name teehee, speaking of check me out there too! I'm also on iwantclips, manyvids, clips4sale, niteflirt, sextpanther, and onlyfans. all by the name thrasherbrat except sextpanther that's harley queen. My other other name. come find me, I'm not hiding.