Bonus Content
| " my fans are wonderful! They encourage me, adore me, as well as just talk to me like a normal person!"@sweetbabyvixxi1
" my fans are wonderful! They encourage me, adore me, as well as just talk to me like a normal person!"@sweetbabyvixxi1
Posted on July 19, 2019
Charlie
Here's a little intro about me, without giving too much away, as I'm relatively still private when it comes to being an adult content creator. Ever after two successful years since starting, I haven't told mom and dad, only close friends and other family members know! But I can share that I was born on an island, right near Africa! I was actually adopted out of poverty and was blessed to have a loving, healthy and stable upbringing. Now I'm repping Central Texas as my home: Keep Austin weird! 

The diverse culture and open attitude here help my creativity, because the people are so friendly and frankly, yes, weird. But it beats a grey, boring and small Texas town any day! Austin has great hiking trails, so I'm actually in the process of shooting a few outdoor videos soon! My first, so I'm super excited!! The food truck scene  and nightlife here are also awesome so I'm either out on the lake with my little family, stuffing my face with fusion food or performing custom videos for fans when I'm not working my 9-5 tech job!  That was a mouthful, so on to the questions!
How does it feel to know so many strangers are aroused by your clips, posts, tweets, etc?
Of course, I'm loving the likes and attention when I post! I've always been a sucker for compliments! What girl isn't?! But I truly appreciate the time taken from strangers to check me out and see what I have to offer, because the feedback in itself is rewarding, as well as the stacks I see in the bank account! But seriously, it actually keeps me going, helps me grow and even find out what other fetishes are out there, so broadening my sexual horizon! Win-win situation!
Do you have any tattoos or piercings? If yes, how many do you have? Where are they? Which is the most recent? Which was the most painful?
Sadly, in my 10,587 days of being on this Earth I only have one tattoo. Since it's the only one, it's located on my left inner wrist, below my hand, I did cry, because I'm a pussy. It's a little black letter R, shaped in the logo for Rihanna when she came out with her Rated R album. Yeah, I was a huge fan, and now I'm almost just as nervous to cover it up with something else that I might regret later in life! Haha, so for now, I'm branded by the Caribbean princess and she doesn't even know I exist…yet! As for the piercings, innocently enough just my ears!
What is the most creative pickup line you've ever heard?
I might be biased, but I love it when my boyfriend roleplays in public with me as if we're strangers and asks me "Say girl, your momma let you date?" It's probably not creative, nor that impressive at all! But to be honest, I don't get hit on often, at least in person (irl) where it actually counts, boys!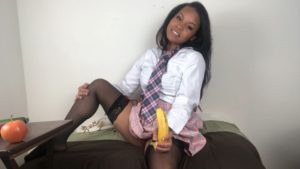 How long have you been a content creator? What is your favorite platform, Onlyfans, Manyvids, clips4sale, etc 
So I might have let this slip in my intro, but I've been officially making money off of videos for a couple years now. September 2017 to be exact! But I've actually been recording myself being intimate with partners for yeeeears. Probably since 2009.  I started on ManyVids after the summer of 2017 and have loved seeing it and myself grow ever since. I have an Onlyfans (sweetbabyvixxi1, same as Twitter and Instagram) but I'm still getting the hang of the interface and how everything works first, so not fully promoting it yet.
 Are you a dom, sub, or switch in your personal life?
I'm very much the submissive type in my personal life. I love being told what to do, how to do it, hearing feedback and being rewarded by pleasing even more. Don't get me wrong though, I like telling my partner where to kiss, suck, touch and how to do it, that's just how I get off sometimes. But I'm almost as far as animal roleplay/ pet play, where I'll roleplay as a little puppy obeying her Master. I'm not there yet, but hopefully soon because I'm intrigued by the dynamic!
What is the most sensitive part of your body?
My nipples! For as long as I can remember, that's the surest way to get me wet! Whether someone is teasing them lightly with their tongue, or I tell them to twist them hard, it's like lightning bolt fast to my sensual nervous system, if that's even a thing I don't know! I'm just excited even just thinking about it!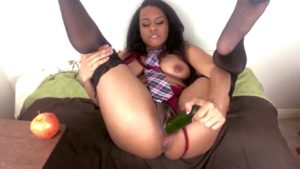 What is your wildest or most unexpected experience on a shoot?  
Just last month, I had a request to try to squeeze the largest sausage from the grocery store inside of me. It wasn't as thick as the ripest, most obnoxiously big eggplant you could think of, but I still couldn't believe it could fit at first! But with enough lube and water nearby, I was wet enough for it to eventually slide in. It felt SO good that I started creaming, dripping and even squirting after just 15 minutes in playing with it for the custom video! I even did it on the kitchen counter, so the feeling of the cool marble on my naked skin was just pushing me off the edge (yes I slipped a little, and fell off the edge, but edited that part out of the video)
What is something you haven't done on a shoot that you've wanted to try? Is there anything you think you'll never do sexually?
Since the beginning on ManyVids, I swore to myself that I wouldn't perform anything illegal. And now I have agreed to two outdoor videos to shoot before the end of the month! I mean, at first I was nervous, but now I found a set up that will work and be perfectly comfortable for the customs without getting in trouble for it. One more thing I won't do, from experience, is self-inflicting pain to sensitive areas like my clit. She's wayyy too big and precious to even consider damaging, so it was a one-time thing. Never again, otherwise I'm pretty open to just about anything.
What part of your body do you feel goes underappreciated?   
Well, honestly, everything from my head to my toe gets some sort of level of appreciation! It's only been recently that I've finally accepted my little booty. I'm black and I don't have the big juicy Judy booty, you know? But I still get the Oos and Aas when I bounce it occasionally, so I'll love it too just the way it is! (I'm still squatting though!)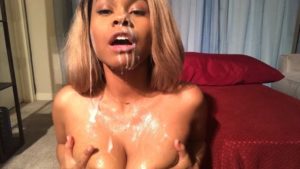 Who is the most fun and/or laidback person you've ever worked with?
I have yet to work with a female, so that leaves my boyfriend as being the most fun to work with. I hope in the future to perform G/G videos, I've been yearning for a woman's touch, as well as taste! 
Most models say they like the interaction with fans through CAMs and social media, in just a few words how would you describe your fans?  
My preferred means of interaction is on Snapchat! And my fans are wonderful! They encourage me, adore me, as well as just talk to me like a normal person! Sometimes I don't even care about the money, if someone is having a bad day and tells me that I've made them feel better, I don't see the harm in empathizing and hearing them out! That's all someone needs sometimes, just someone to unravel to.  
Do you visit adult sites? If yes do you have a favorite niche?
OMG, pornhub is great, but my desires change and range so much I end up on xvideos or x-hamster sometimes. One minute I'm trying to see what public groping looks like, then I'm typing in midget porn, tranny train, "young girl rimjobs old man" until I finally cum to some bi-sexual twink threesome porn. I just never know where my porn search rabbit hole will take me…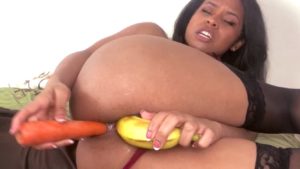 Do you watch your own movies? Does it turn you on?
Actually, while I'm editing, that's how I know whether I've done a good job or not on a video, if I cum to my own content! It also helps me subconsciously with pricing too, weird, haha I know!
What is something people always assume about you and are always wrong about?
How innocent and young I look.
What is the next, project, shoot, etc?
I just had a promo last week for custom orders, so I have like 8 videos lined up to wrap in a few weeks! Totally do-able, not worried at all! But I already have a sexy secretary and supergirl videos to finish in a part 2, along with the other 8! Shit, it's gonna be a busy month!
Are guys intimidated by you?
Nah, I think they find me pretty approachable online. In person, irl, I guess they are? Mainly because maybe they don't know how old I am? They look at my tits, then my face, my height and then my style, I'm sure it's all so confusing, so they're more likely to stare than to say/ ask anything to my face.
Where can your fans find you? Sites, twitter, etc
So, Thank you SO much for this interview! You can find me on

@rihantah on Snapchat, where I'm snapping selfies, lipsyncing my favorite songs, sharing my cooked meals and my puppy as if I birthed him from my own womb!
@sweetbabyvixxi1 is my Twitter, as well as Instagram, totally working on posting more often there, so hang in there with me and my Onlyfans, as I've said is under construction too, but hopefully get the hang of it before the end of year!