Bonus Content
| " I like horny men to sit behind their screens and beat their meat just by the sound & thought of me while their girlfriend is in the other room taking care of their kids! " @Cocopuffphatty
" I like horny men to sit behind their screens and beat their meat just by the sound & thought of me while their girlfriend is in the other room taking care of their kids! " @Cocopuffphatty
Posted on April 18, 2020
Charlie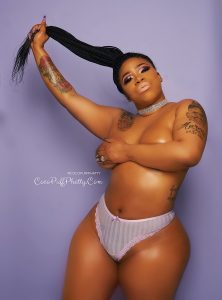 I go by the name "Coco" .. CocoPuffPhatty AKA THE GODDESS OF THE FREAKS! I was born and raised in the beautiful twin island of Trinidad & Tobago but I currently reside in Washington Dc. I love to eat, drink, listen to music and have ah good time! I enjoy outdoors and nature and would love to travel the world before I die!
How does it feel to know so many strangers are aroused by your clips, posts, tweets, etc ?
Shall I just say like the Goddess I am! This is what I do .. it's what I live for. I like horny men to sit behind their screens and beat their meat just by the sound & thought of me while their girlfriend is in the other room taking care of their kids! Damn, just thinking of that is making me wet lol 
Tell us tattoos and piercings. How many do you have? Where are they? Which is the most recent? Which was the most painful?
Yesss! I have a little of both currently! I have 7 tattoos and 9 piercings. My most recent tattoo is the elephant piece I got to represent strength on my arm it's so cute and my most recent piercing is my tragus piercing. I'll have to say the most painful piercing was my nipple piercings .. hence the reason why I haven't got them redone yet after this dude swallowed one of them! 
How long have you been a content creator? What is your favorite platform?
I've been creating content for Onlyfans for about 2 years now. I wish I knew about it way before 2018 because I love it!
What is the most creative pickup line you've ever heard?
Hmm .. I've heard some really corny pickup lines! But I can't think of any of them right now smh 
Are you a dom, sub, or switch in your personal life?
Ideally, I'd love to be a DOM in my personal life but these vanilla men be scareddd when I turn into a Bedroom Bully so I switch it up and save it for the super drunk times. 
Have you experimented  with femdom? Did you enjoy it? Do you have a favorite femdom activity?
Unfortunately, I haven't gotten the chance to do it in real life yet. But I love femdom .. I have a couple virtual subs that have the privilege of having me as their Goddess and adore me! We have FUN! Growing up I used to always fantasize about pegging and wondered if it was "gay" if I did it to my boyfriend(s) at the time. I never asked though because they'd probably kill me considering the fact that they're island boys!
What is the most sensitive part of your body?
My nipples! OMG
What is your wildest or most unexpected experience on a shoot?
This was my most horrible experience to date .. I booked a shoot with a certain DMV photographer and I went to the bathroom when I came back this sadist had his penis in his hand, replaying my videos and jerking off .. it was weird & horrible. I hate it in the ghetto *cries* 
What is something you haven't done on a shoot that you've wanted to try? Is there anything you think you'll never do sexually?
I would love to try a boy and girl scene .. I've never done one as I'm a SOLO Content Creator. But I will want it to be super kinky and fun maybe a scene where I get to plant my big, juicy ass on somebody's face and chest and go potty and the rest will be a fucking movie! 

Uhh, Rimming! I don't know how I feel about that .. a lot of femdom subs love it but idkk man. I'll finger your ass and spit in it all day but idk about my tongue going in a man's ass .. Lol!
What part of your body do you feel goes underappreciated?
My Titties! I love my nipples to be sucked on and caressed .. it's the fastest way to make this pussy ooze! 
Who is the most fun and/or laidback person you've ever worked with?
MYSELF! All day, Everyday .. 
Most models say they like the interaction with fans through CAMs and social media, in just a few words how would you describe your fans?
My fans are perverts, I fuckin love them! 
Do you visit adult sites? If yes do you have a favorite niche?
No! I be too busy with my own site .. but if I watched porn it will have to be a gay porn (guys) getting bangeddd! Idk why that makes me horny 
Do you watch your own movies? Does it turn you on?
Hell yeahhh.. I beat my pussy up while I'm watching myself beat it up and I just might record that moment too! 
What is something people always assume about you and are always wrong about?
That I'm mean asf and unapproachable! But I'm the sweetest person you'll ever know .. I'm actually really cool & fun. 
What is the next, project, shoot, etc?
I'm working on a couple things right now .. I have lots of new ideas and innovations I'd like to manifest soon so make sure you're connected to my sites to see what I got up my sleeve! 
Are guys intimidated by you?
Unbelievably, yes .. I don't know why. It's weird!
Where can your fans find you?
All my beautiful fans can find me on CocoPuffPhatty.Com .. all my links are on there be sure to check it out and subscribe .. you won't be disappointed! 
My Social Media Accounts are
Instagram – @CocoPuffPhatty
Twitter – @CocoPuffPhatty 
YouTube – CocoPuffPhattyTV