Bonus Content
| "… i cook and bake naked….and do a few naughty things in between baking times." @KaraKiss4
"… i cook and bake naked….and do a few naughty things in between baking times." @KaraKiss4
Posted on April 13, 2020
Charlie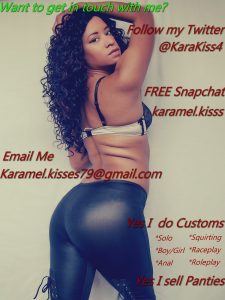 How does it feel to know so many strangers are aroused by your clips, posts, tweets, etc ?
I honestly love it. Thats one of my turn ons knowing that people are watching me and getting pleasure from my content or live streams
Do you have any tattoos or piercings ? If yes,how many do you have? Where are they? Which is the most recent? Which was the most painful?
I do not have any tattoos but i plan on getting a couple once the tattoo shops open back up. I have a nose stud (wasn't painful at all)
How long have you been a content creator? What is your favorite platform?
I have been a content creator for a little over 2 years on and off. My favortie platform is onlyfans because it allows me to interact more closely with my fans through dms and content.
What is the most creative pickup line you've ever heard?
How much does a polar bear weigh? Enough to break the ice, hi im ****
Are you a dom, sub, or switch in your personal life?
I would like to be a sub but I'm honestly way too stubborn. I have done privates where i have been both dom and sub
What is the most sensitive part of your body?
My clit or my hips
What is your wildest or most unexpected experience on a shoot?
My most unexpected experiences are always my bloopers. Ive had green screens fall on top of me, I've fallen off the bed, squirted in my face…I'm a goof lol
What is something you haven't done on a shoot that you've wanted to try? Is there anything you think you'll never do sexually?
Something I've wanted to try would be bondage or wax play
What part of your body do you feel goes underappreciated?
I honestly don't think any part does. Everyone has their own kinks and fetishes. There may be parts of my body that others absolutely love, which in turn gives me more confidence in that area.
Who is the most fun and/or laidback person you've ever worked with?
My boyfriend
Most creators  say they like the interaction with fans through CAMs and social media, in just a few words how would you describe your fans?
Amazing lifesavers
Do you visit adult sites? If yes do you have a favorite niche?
I do. My go to on adult sites ( my favorite )is bondage
Do you watch your own movies? Does it turn you on?
I do watch my own movies and it definitely turns me on especially when I edit my couples content.
What is something people always assume about you and are always wrong about?
A lot of people who come into my room say that I'm different because i actually talk and interact no matter the user color, which i love. Some of my best friends in my cam room have been grey users and ended up tipping, or even if they are still grey users have ordered customs or shows.
What is the next, project, shoot, etc?
Right now I'm focusing on my naked baker series, where i cook and bake naked….and do a few naughty things in between baking times.
Are guys intimidated by you?
They shouldn't be
Where can your fans find you?
Chaturbate.com/karamel_kiss

recent Tweets
Fetch Tweets: Could not authenticate you. Code: 32