Bonus Content
| "I'm a sub with guys but can be a switch with girls" @wednesdaynytex1
"I'm a sub with guys but can be a switch with girls" @wednesdaynytex1
Posted on March 30, 2020
Charlie

Please tell us a little about yourself
My name is Elaina aka Wednesday Nyte. I'm from Columbus, GA. I currently live in Vegas. I'm a stripper, but I love dancing outside of work too. I love to travel meet new people eat new things. I'm very spontaneous. I love doing things outdoors and anything that gives me an adrenaline rush. I'm a huge animal lover as well.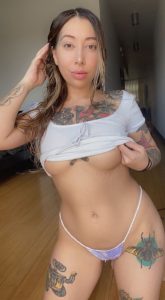 How does it feel to know so many strangers are aroused by your clips, posts, tweets, etc ?
I think it's cool I can express my sexuality for other people's satisfaction. It turns me on
Tell us about your tattoos and piercings ? How many do you have? Where are they? Which is the most recent? Which was the most painful?
I have only three piercings in at the moment (nostril, septum, and one of my nipples) I actually used to be a pierced when I lived in L.A. I have 31 tattoos. The ones on my ass were definitely the most painful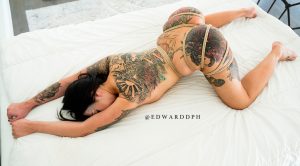 How long have you been a content creator? What is your favorite platform?
Onlyfans is my favorite platform. I've been making content for 4 years and started with a premium Snapchat
Are you a dom, sub, or switch in your personal life?
I'm a sub with guys but can be a switch with girls
What is the most sensitive part of your body?
My nipples are the most sensitive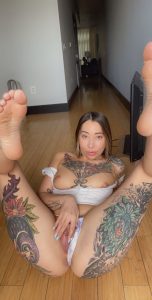 Most performers say they like the interaction with fans through CAMs and social media, in just a few words how would you describe your fans?
My fans are super nice and really down to earth. I like that. I love being personable with them.
What is something you haven't done on a shoot that you've wanted to try?
I would love to do DP or a gangbang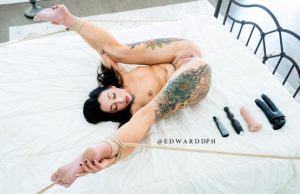 Are guys intimidated by you?
Some people have told me they are intimidated of me because of my tattoos and I'm really super sweet
Where can your fans find you?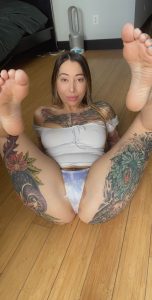 recent Tweets
Fetch Tweets: Could not authenticate you. Code: 32