Bonus Content
| KASH MARIE THEBBW lol I'm solo until further notice. @KASHMARIETHEBBW
KASH MARIE THEBBW lol I'm solo until further notice. @KASHMARIETHEBBW
Posted on July 26, 2019
Charlie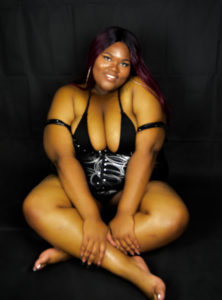 How does it feel to know so many strangers are aroused by your clips, posts, tweets, etc ?
The feeling I get is indescribable. every single sale still shocks me because I'm reaching people in places that I probably won't make it to in my lifetime. and as far as knowing they are jacking off to me it turns me on beyond anything else. but for the things, I post for free on social media idk I have my days where I love it and there are days where I feel like can yall buy the video instead of just liking shit lol but I mean every model has his/her love-hate relationship with social media.
Do you have any tattoos or piercings ? If yes,how many do you have? Where are they? Which is the most recent? Which was the most painful?
Yes, I do. I have 10 piercings and 5 tattoos. I have 1 lip piercings, 2 tongue piercings, 1 nose piercing, both of my ears are pierced twice, and my nipples are decorated as well. as far as tattoos I have 5 pieces which are one on my left shoulder which I love and do not want to discuss the meaning behind because this tatt is special and only for me. I have both of my thighs tattooed on the left thigh I have my name "KASH MARIE" with stacks of money and bankrolls, on my right thigh I have the simple word "beautiful" in large letters, then in my right forearm I have the outline of the state of Texas with my city Houston on the inside of the outline, along with the initials "km" which stands for KASH MARIE. none of them was painful it was more of an orgasmic and relaxing feeling. it turns me on so more tattoos and piercings are coming soon. 
How long have you been a content creator? What is your favorite platform, Onlyfans, Manyvids, clips4sale, etc
I've been creating for 3 years and counting and I love onlyfans.com/kashmariethebbw I get to be free and post whatever I want and I get to talk to my boyfriends (fans) all day long they get to keep up with me and I love that.
Here at totalfetishxxx.com we adore big girls. Do you think in the industry as whole BBW models are looked down on or have a bad rep?
i don't think we are looked down on but we as a whole can do better, I don't expect everyone to get along but we should come together and treat each other with respect.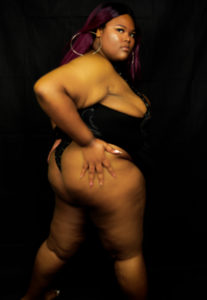 What is the most sensitive part of your body?
my clitoris lol.
What is your wildest or most unexpected experience on a shoot?
I've feed this guy his shit with a spoon straight out of an adult diaper. it was his custom clip request and I had a great fucking time because at this moment I knew I was nasty as hell and liked it lmao. It wasn't the fact that it was extreme scat ( the fetish is not in my porn playlist) it was just the fact that he trusted me enough to get to that level of freaky with me. i love men who are open with what they really want, like if you're into pegging I'm not going to turn my nose up at you or if you ask for something that may or may not be unusual I'm freaky in real life not that fake choke me slap me bull shit everyone claim either. look I have my limits but I do get down and ill try anything once. 
What is something you haven't done on a shoot that you've wanted to try? Is there anything you think you'll never do sexually?
i want to get into urethra play, so if I find a guy who is into it and is willing to be filmed I would love that. I love when men moan in pleasure and pain, I can cum off of the thought alone. something ill never will do is oral giving or receiving to a female I just can do. females aren't my thing but I'm willing to try a strap-on scene once maybe.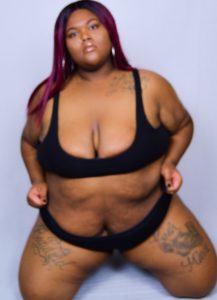 Most girls say they like the interaction with fans through CAMs and social media, in just a few words how would you describe your fans?
i love my boyfriends they are funny as hell and I appreciate them. if y'all reading this I love y'all. 
Do you visit adult sites? If yes do you have a favorite niche?
BBC with ebony women. 
Do you watch your own movies? Does it turn you on?
yes I watch them like after a few months of making them. the one I keep going back to my favorite it's titled "eat my pussy daddy".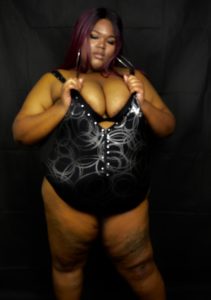 What is something people always assume about you and are always wrong about?
That I'm free. if you " want to get to know me" that cost too, also they think I'm mean but I'm only mean to people who think I'm free. I'm cool and laid back for the most part. 
What is the next, project, shoot, etc?
so I'm doing this video event called 5 days of submission it's going to be very different from what is usually put out. stay tuned for that ill post some behind the scene footage on onlyfans.com/kashmariethebbw and manyvids crush. 
Are guys intimidated by you?
i hope not, but if you are don't be scared, challenge yourself and cum play with me. 
Where can your fans find you? Sites, twitter, etc
you can find me everywhere. 

twitter: @kashmariethebbw

Instagram: @htown_kashthebbw

facebook: Kash Marie thebbw

and when in doubt just google "kashmariethebbw"