Bonus Content
| " I do have a 9-5 as well as I am in school, however I do enjoy draining men and letting them know they are inferior to the female population." @Comp_ASS_ion
" I do have a 9-5 as well as I am in school, however I do enjoy draining men and letting them know they are inferior to the female population." @Comp_ASS_ion
Posted on September 27, 2019
Charlie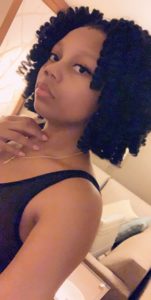 Background Info:
I was born and raised in NY, but currently reside in the DMV area. I've been an online fem/findomme for almost 2 years. My domme anniversary is November 7th. I hope the world is ready for what I'm about to unleash because November 7th is not an ordinary day. My hobbies outside of seducing weak men out of their wallets include traveling, studying to become a Sign Language Interpreter, and building my business.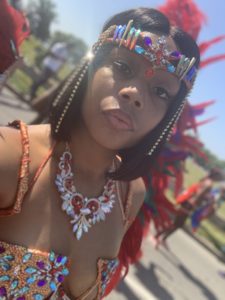 How does it feel to know so many strangers are aroused by your clips, posts, tweets, etc ?
Knowing that so many subs are aroused by my clips, posts, and tweets feed my ego of dominance, it makes the interaction more enticing and enhances the ultimate goal of a committed d/s relationship. So many people have told me that I have a command presence, when I walk into a room I demand attention without ever opening my mouth, so knowing the effect a have on weak men comes as no surprise.
Are you a fulltime dominatrix / mistress / Goddess? For those who aren't that familiar with the terms is there a difference? Or is it just preference?
I define myself as a part time dominatrix as well as a preference. I do have a 9-5 as well as I am in school, however I do enjoy draining men and letting them know they are inferior to the female population.
What is something you haven't done in a session that you've wanted to try? Is there anything you think you'll never do within BDSM or fetish?
Unfortunately, I have not had the pleasure of a double dome session. Something about 2 beautiful women having control over a man, feeding off one another's dominance turns me on.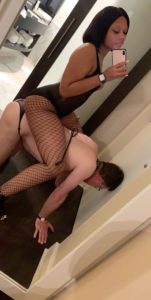 How long have you been a content creator? What is your favorite platform, Onlyfans, Manyvids, clips4sale, iwantclips, AVN etc 
I've only been a content creator for almost a year. My favorite platform hands down would have to be AVN Stars. The interface is aesthetically pleasing, easy to navigate, and of course I love the block option lol.
How do you respond to someone that says fetish and BDSM is just about kinky sex and getting off?
For those who believe fetish and BDSM is just about "kinky sex and getting off," I tell them in the same respect so is financial dominatrix. It is a fetish just as any other. Just as an individual may get off on getting pegged or a foot job I get off on the transaction of their money leaving their account and entering mine,
What is your favorite type of femdom activity? ( face sitting, ass worship, ball busting, etc )
My favorite femdom activity definitely is body worship. I love to be complimented and told how good I look. I enjoy smothering men with my ass until the point they have to choose between for air and continuing to indulge in my pheromones. Just a hard-cruel decision they are faced with.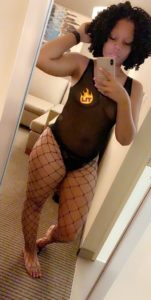 Do you visit adult sites? If yes do you have a favorite niche?
I rarely visit adult sites, but when I do I definitely go straight to the ebony section and turn the volume down. The staged moaning and erotic talk messes up my feng shui.
Are guys intimidated by you?
Men are most certainly intimidated by me. My dating life is almost nonexistent due to this fact.
What is something people always assume about the BDSM and fetish lifestyle and are always wrong about?
People assume that all sex workers are the same when we're not. Some of us have morals, values, aspirations, and no we don't all get naked. We are not kink machines that spew kink vomit 24/7. We are human beings who hold normal lives outside of our kinks and fetishes.
Where can your soon to be fans find you? Sites, twitter, etc
Twitter: @Comp_ASS_ion

AVN: https://stars.avn.com/comp_ass_ion