Bonus Content
| "I want to do a full blown porn movie with a sexy, thick female. (Drop names here lol) " @GoldBodyGawdess
"I want to do a full blown porn movie with a sexy, thick female. (Drop names here lol) " @GoldBodyGawdess
Posted on August 25, 2019
Charlie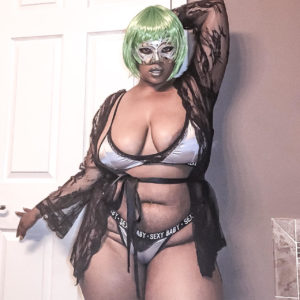 Let's start with your stats
Age: Thirty something (grown)

Hobbies: reading, writing, cooking, traveling

Niches: oil, role play, food, squirt, lingerie fetish, masturbation and anal.
How does it feel to know so many strangers are aroused by your clips, posts, tweets, etc ?
It's still really crazy to me that I have fans and admirers and I have been doing this for years! It wasn't until recently that I started looking at myself from the viewpoint of a fan and then I got it: I'm really fucking hot! Lol! I love that strangers are aroused by me. When I perform, I want you to feel me from wherever you choose to watch me. It's good to know my energy transcends.
Do you have any tattoos or piercings ? Where are they? Which is the most recent? Which was the most painful?
I have several tattoos and piercings. I have to keep the where and how many a secret for now, but I will say, my most recent body alteration was a piercing and it was my nips and hood (clit). The most painful has to be my nipple rings. The healing is crazy on these things! But my favorite, although you didn't ask, is my clit ring. Just leaves me dripping and I love it.
How long have you been a content creator?
Whew! Well, I have been a content creator for about 12 years. I started with creating stories of my sexual alter egos as a fun filled week for my beau and it just spiraled into this, with allowing the rest of the world to see, the animations, the new characters, etc.

I became Doll Divine 5 years ago. I celebrated my 5th anniversary July 7 this year and it felt so good to say I've been a dream wife to many loyal fans for so many years. It is truly amazing.

My favorite platform is onlyfans because my fans have been so consistent on there and have been fans for a long time. They get a lot of exclusive content that you will NOT see anywhere else. Duh right? Lol and I'm new to IsMyGirl but I have plenty of content there as well, which is my second favorite so far.
What is the most creative pickup line you've ever heard?
Wow……lol! The most creative pick up line……I would say when I was told by my now husband "I'm going to make you understand how to love me, by loving yourself", the panties got wet. That's a different kind of confidence and commitment and I'm always up for a good challenge.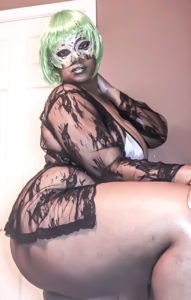 Are you a dom, sub, or switch in your personal life?
I'm mostly submissive in my personal life but I love to play dominant as well. The way I see being a submissive is in a rather dominant manner, I suppose. I can control the situation by giving you what you want, if that makes sense. Lol! I'm a good reader of people and situations…..I do whatever I can do to get what I want……and I always do.
What is the most sensitive part of your body?
My ears for sure! I don't know what it is but I just MELT when someone kisses or sucks on my ears. Is that weird?! Lol
What is your wildest or most unexpected experience on a shoot?
I would say my wildest experience would have to be any experience I have had with food or unusual objects. I've never really planned for it but it just kind of makes its way into the shoot. I have had cucumbers, eggplants, glass bottles, cherries, squash, whip cream, syrup, honey, etc. When I get in a zone, I'm like a wild beast. I want to fuck anything in my path
What is something you haven't done on a shoot that you've wanted to try? Is there anything you think you'll never do sexually?
I would love to have a co-star, of course a woman. I have been with women but never something I recorded. I have some pictures from an encounter I had but I want to do a full blown porn movie with a sexy, thick female. (Drop names here lol)

Something I don't think I will ever do: have sex with 2 men. It's just not my style. While I love being "dominated" (see earlier submissive comment), two men is just not a desire of mine. I'm sexual. I'd be remiss to ask 2 men to match my energy in a situation of passion and full attention. That's a woman's game.
What part of your body do you feel goes underappreciated?
I don't feel any part of my body is under appreciated. I am completely satisfied. I will say tho, I would like to share more of my feet with my fans because I am so turned on when my legs are cocked back and my feet are being kissed and sucked on. Gotta get in between them toes daddy! Lol

My fans appreciate me as I am. All natural cushion for the pushing. I do work out to stay fit and of course, it would be some things that I would change but I always tell myself and I always hear "You're perfect just as you are." And I go with that.
Who is the most fun and/or laid-back person you've ever worked with?
Well, for the type of work that I do, I am solo so I haven't had the pleasure of working with anyone yet BUT I am looking forward to it soon.
Most girls say they like the interaction with fans through CAMs and social media, in just a few words how would you describe your fans?
Loyal, intelligent, funny, creative and vulnerable. All things I appreciate.
Do you visit adult sites? If yes do you have a favorite niche?
I love to get my porn on! Lol! I am into close up action. I love to see a wet pussy cum and orgasm up close. So, I like the POVs. I also love lesbian porn. The pussy rubbing makes me drool
Do you watch your own movies? Does it turn you on?
I do watch my own movies and it actually does turn me on. I just love how thick and wet my pussy looks. I love the way I cum and squirt. It's just sexy. It's why I love having sex with myself! Lol!
What is something people always assume about you and are always wrong about?
People always assume that I am mean but I really am one of the nicest people you will ever meet. They also assume I'm stuck up, but wrong again! Cute, sexy girls can be cool and you are getting to know one of them right now as you read!
What is the next, project, shoot, etc?
Well, my solo shoots are not necessarily planned but I'm working on getting a creative team behind an erotic art project to get into the toon world of sex. I'm excited to enter into a new realm for me with this, but I have so much to offer. Fun fact about me: I'm a writer! So, things are about to turn up for Mrs. Divine.
Are guys intimidated by you?
Yes they are and I think it's the craziest thing. I am a loner and I'm not big on crowds, but I always appreciate a nice, personal conversation. I love intelligent conversations. The most attractive thing to me is someone who has good conversation. So the fact that they are intimidated means I'm not getting the conversations I love. You see me, come talk to me! And I need that real "we connected type of vibe" conversation. If you are about small talk, I'm not your girl.
Where can your fans find you? Sites, twitter, etc
Email me for any business at: TheDollDivine@gmail.com

I am ALWAYS available on these platforms:
Instagram: @goldbodygoddess
Twitter: @goldbodygawdess
And my premium sites are:
recent Tweets
Fetch Tweets: Could not authenticate you. Code: 32