Bonus Content
| "tattoos are my addiction" a talk with Brooklyn Snow @BrooklynSnowXXX
"tattoos are my addiction" a talk with Brooklyn Snow @BrooklynSnowXXX
Posted on July 05, 2019
Charlie
Please introduce yourself
I am Brooklyn Snow, I was born in a small town in southern North Carolina and was raised both there and in Virginia. I consider both NC and VA home but I currently live somewhere along the East Coast. I also  travel a lot. I love anything music/dance/art related.  I enjoy writing, playing, and listening to ALL genres of music as well as drawing and writing. Dance is my passion! I took my first ballet class at 3 yrs old and soon after ballet came tap, modern, and hip hop. Dance and music are my constant and have followed me through the years. I am also a huge animal lover and an advocate for people with Autism.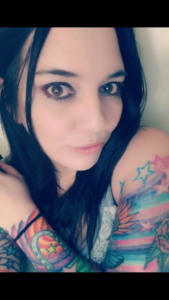 How does it feel to know so many strangers are aroused by your clips, posts, tweets, etc ?
** It feels fantastic knowing that so many strangers are aroused by my clips, photos, tweets, and posts and the thought of it actually turns me on a little bit.
Do you have any tattoos or piercings ? If yes,how many do you have? Where are they? Which is the most recent? Which was the most painful?
** Yes, I have tattoos! I guess you could say that tattoos are my addiction but there are worse things to be addicted to I suppose. I have lost count on how many tattoos I actually have but at this point I'm gonna guess and say probably a bazillion and I'm pretty sure that isn't even a word but I rolling with it, so yeah I have a lot. My most recent one is the word promise that my sister and I got tattooed on our pinky fingers to symbolize a "pinky promise" to each other. The most painful tatt is a tie between the one on my knuckles and the one above my vagina but with the vagina tattoo, the vibration of the tattoo gun was also pleasurable so my brain was a little confused as to whether I should feel pleasure or pain but I enjoyed it.  I also have a dermal piercing under my eye and a lip piercing but nothing crazy as far as piercings go.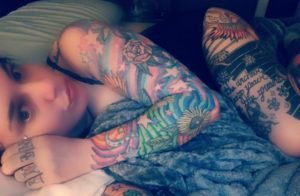 What is the most creative pickup line you've ever heard?
** The most creative pickup line I've heard would have to be….."Girl,  you know I ordered a chicken sandwich but if you come home with me, you'll be my happy meal".
Are you a dom, sub, or switch in your personal life?
** In my personal life I am a sub but a lot of people are surprised to hear that. I don't know if it's the tattoos or the natural badassery that oozes from my pores but people tend to assume I am a dom and with that being said I will say that my BDSM is my thing, my niche, my fetish or whatever you choose to call it but I thoroughly enjoy it.
What is the most sensitive part of your body?
** The most sensitive part of my body is definitely my neck.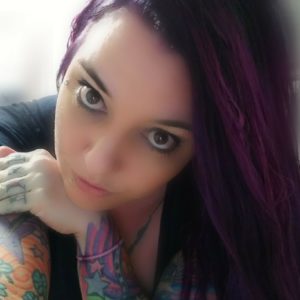 What is something you haven't done on a shoot that you've wanted to try? Is there anything you think you'll never do sexually?
** When it comes to shoots what I really, really want to do the most are Gang Bangs, B/B/G,  G/B/G so lets make it happen people!
Most girls say they like the interaction with fans through CAMs and social media, in just a few words how would you describe your fans?
**  In just a few words I would describe my fans as absolutely amazing. They support me in more ways than you can imagine  and I try to show appreciation and love every chance I get.  Love you guys!
Do you visit adult sites? If yes do you have a favorite niche?
**  When I do visit adult sites I typically watch gangbangs, bi sexual threesomes, or gay and lesbian porn!  I love it!
Are guys intimidated by you?
** Sometimes, in my personal life guys are intimidated by me. I have tattoos, I'm wide open, and a lot of times I don't have a filter. Mix all of that with class, a touch of crazy and some experience and I can understand why guys might feel intimidated.  Its okay though.
What is the next, project, shoot, etc?
** Now, that I have recovered from some health issues and procedures'  I have a few projects in the works. An upcoming wrestling series later this summer as well as some shoots out west but I am always traveling and  currently booking for August and September. I am definitely looking forward to it! Its going to be a blast!
Where can your fans find you? Sites, twitter, etc
** You can find me on twitter @BrooklynSnowXXX, my official website brooklynsnowxxx dot com, which is currently under maintainance but still awesome. My new Is My Girl profile is  coming next week as well as my I want Clips store so stay tuned  its going to be epic. I am ALWAYS offering Skype dates as well as custom videos for whatever kinky needs your might have.  To Inquire about skype dates, customs or bookings please contact me through my email inkedbrooklynsnow at gmail.