So You Want to be a Pornstar – Part 1
Posted on June 16, 2019
Jake Sperrow
I get contacted by many many many many young men who want to get into porn.  This will be a series of blog posts giving advice.
It is hard for me to help most times, because my life is a spiraling tornado of shit that needs to be DONE RIGHT NOW, lol.  It is hard for me to follow up if it is not directly related to my business.  And we are in Detroit, which is not exactly the Mecca of porn….  The money we make gets reinvested into the business (web design, female model fees/travel/etc, equipment, hosting, shoot venue rental, services, etc.).  There is not much (nothing) left to pay males or cover their travel.  So for us, it is hard to help young men get going.  You basically have to pay your own way, show up, be respectful, and perform.  Fear not, though.  EVERYTHING is possible.
I have kicked around a lot of ideas to find motivated and reliable talent with my fellow smut peddlers.  Of course the smartest woman I know (Gogo Fukme) has a brilliant idea.  If you don't know Gogo, then crawl out from under that fucking rock you have been hiding under.
If you are serious, then check out her event.  This is your opportunity.  Nobody will hand you the keys to the castle, you need to charge out and take dem shits.
Gogo Fukme Casting Call Conference Info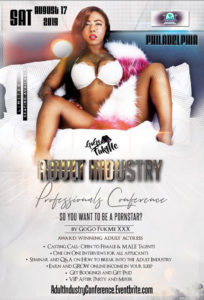 Other Gogo Links
Twitter – @Gogofukme_xxx
IG – @gogozombikiller
Only Fans – https://onlyfans.com/gogofukmexxx