Bonus Content
| Sexy slim goddess Aaliyah Ali @AaliyahAlii is a switch by nature
Sexy slim goddess Aaliyah Ali @AaliyahAlii is a switch by nature
Posted on June 29, 2019
Charlie
Hello my name is Aaliyah Ali and I'm 20 years old. I was born and raised in Long Beach, California but moved to Atlanta, GA when I was 12. I model and I'm a content creator. I love having fun and being myself. I love what I do & do what I love.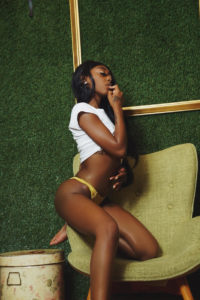 How does it feel to know so many strangers are aroused by your clips, posts, tweets, etc ?
It actually motivates me to know that strangers are aroused by the idea of me. It motivates me to work hard and keep doing better. I like the idea of being someone's favorite or apart of someone's dirty little fantasy
Do you have any tattoos or piercings ? If yes,how many do you have? Where are they? Which is the most recent? Which was the most painful?
I have 9 tattoos & 4 sets of piercings and 3 single piercings. I have a tattoo on my left hand, two tattoos on my right hand, a tattoo on my collarbone, tattoo down my back, tattoo on my left leg, tattoo under my boob, tattoo on my right wrist, tattoo on my right hip. I have my nipples, nose, belly, back dimples, tongue and ears pierced. The most recent tattoo is the one on my right hip and the most painful tattoo was definitely my leg. My most recent piercing was my back dimples and also was the most painful piercing.  
What is the most creative pickup line you've ever heard?
The most creative pickup line I've heard has to be when said and I quote "Do you have an inhaler? Cause you got ass ma!". I kid you not. I really liked that one..don't ask me why. LOL
Are you a dom, sub, or switch in your personal life?
I would say I'm a switch. I like to be dominant but i also like to be taken control of.
What is the most sensitive part of your body?
The most sensitive part of my body is my neck. My thighs are sensitive as well..combination of both and I'm freaking outtt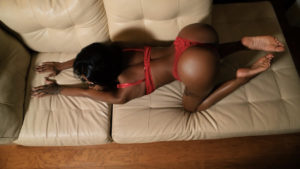 What is something you haven't done on a shoot that you've wanted to try? Is there anything you think you'll never do sexually?
I definitely would like to do anal. I haven't done it yet but i am currently training for it. I think I'd look hot doing anal content. I wouldn't do ass to mouth to a man or a woman..I'm just not a fan of eating or licking ass.
What part of your body do you feel goes underappreciated?
The part of my body that goes under appreciated is definitely my boobs. They're small but they need love too.
Who is the most fun and/or laidback person you've ever worked with?
The most fun and laid back person I've ever worked with would have to be the guy behind ExoticVixenXXX. He was very easy to work with. I had fun.
Most girls say they like the interaction with fans through CAMs and social media, in just a few words how would you describe your fans?
My fans are very supportive & outspoken. They give feedback and they're very appreciative. I love my fans!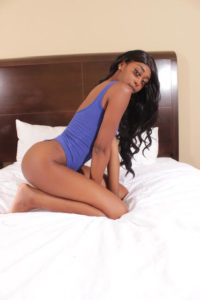 Do you visit adult sites? If yes do you have a favorite niche?
Yes I do visit Pornhub or Xvideos on occasion. My niche is definitely girl on girl. I love it.
Do you watch your own movies? Does it turn you on?
Yes I do watch my movies. I wouldn't say it turns me on to where I masturbate to myself but I watch in observance. I'm my biggest critic and I'm always trying to see if I need to do something more or less for my next film.
What is something people always assume about you and are always wrong about?
People always assume that I'm stuck up. People don't really talk to me or ask me questions because I look "mean". I'm not stuck up, I'm actually very laid back. I'm just very focused
What is the next, project, shoot, etc?
My next project is hopefully girl on girl content or interracial scenes..
Are guys intimidated by you?
Some men are actually intimidated by me. I believe i make them nervous .. it's understandable (;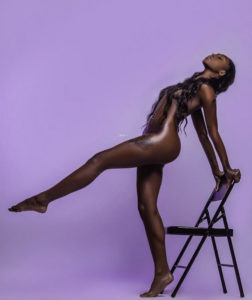 Where can your fans find you? Sites, twitter, etc