Bonus Content
| "People assume I'm innocent and inexperienced. Not the case at all." Shy Spells @Shyspells
"People assume I'm innocent and inexperienced. Not the case at all." Shy Spells @Shyspells
Posted on July 03, 2019
Charlie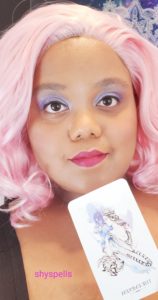 My name is Shy Spells. I am 27 years old and live in North Carolina, originally from Ohio. I've always wanted to work in the adult industry and found my place in camming which eventually led me to clip making.
In my spare time I enjoy dining, cinema, anime and video games. I am very into metaphysical topics and practice magic rituals and tarot readings. I'm a lover of all things pastel, colorful, and bright.
How does it feel to know so many strangers are aroused by your clips, posts, tweets, etc ?
Honestly, I am completely amazed by it. Growing up I always felt like an ugly duckling. I live in a community where beauty ideals were very narrow. So, having a career where I am seen as beautiful, desired, and sexy is amazing.
Do you have any tattoos or piercings ? If yes,how many do you have? Where are they? Which is the most recent? Which was the most painful?
I currently have no piercings except my stretched ears. Just half an inch. I used to have my tongue, upper lip, bottom lip, and nipples pierced. My bottom lip was most painful. I'd like to get my first tattoo soon.
Here at totalfetishxxx.com we adore big girls. Do you think in the industry as whole BBW models are looked down on or have a bad rep?
Yes, I think the industry, as a whole, has a narrow ideal of beauty and so they feel BBWs can't be presented as the "fantasy girl." It simply isn't true. We are desired, sexy, brilliant, and very marketable.
What is the most creative pickup line you've ever heard?
It wasn't creative but it's the only one that comes to mind. A lover of mine said "Do you like white guys? Cause I'm very white." Luckily for him I thought he was cute so looked beyond that cringey message.
Are you a dom, sub, or switch in your personal life?
In relationships or social dynamics, I prefer being dominant…unless they are femme/women, then I'm usually submissive. In the bedroom I prefer being submissive. I guess I'm a switch! lol
What is the most sensitive part of your body?
My nipples OMFG! It's pleasure and agony!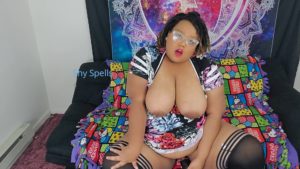 What is your wildest or most unexpected experience on a shoot?
During the first anal clip I shot, I got really into it and was able to take way more than I thought. Usually I shy away from anal penetration. I guess I was more relaxed since it was just me and I warmed myself enough to take more lol
What is something you haven't done on a shoot that you've wanted to try? Is there anything you think you'll never do sexually?
I'd LOVE to collaborate, especially with females/women. I don't think I can get into toilet/fart fetish, I am way too shy and it'd be easy for someone to troll me about it but ya never know, I'm always evolving.
What part of your body do you feel goes underappreciated?
My belly but probably because I always try to hide it lol.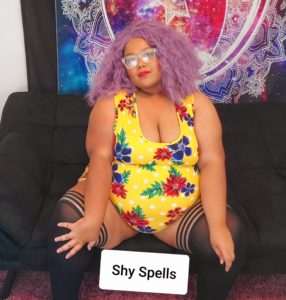 Who is the most fun and/or laidback person you've ever worked with?
I haven't worked with them but I was fortunate enough to have dinner with Ivy Daventport, the ssbbw model. She was incredibly insightful, funny, and sweet. We still keep in contact.
Most models say they like the interaction with fans through CAMs and social media, in just a few words how would you describe your fans?
Supportive and I mean that beyond monetary. Part of my "brand" is that I like connecting with fans, so I have regular conversations with them. If I am having a bad day or need cheering up, I can always count on a sweet message from one of them, giving me a pep talk. They see me as a person, and I do the same for them.
Do you visit adult sites? If yes do you have a favorite niche?
Yes I do. I LOVE HENTAI! Hentai was my first introduction into porn and I've always loved it.
Do you watch your own movies? Does it turn you on?
Only when editing, or checking everything is in order. It doesn't turn me on. It kinda creeps me out. Almost like watching a twin sister or something. I just appreciate it from a creative perspective.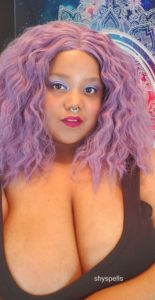 What is something people always assume about you and are always wrong about?
They assume I'm innocent and inexperienced. Not the case at all.
What is the next, project, shoot, etc?
I'd like to explore some beach photos since the summer is here. I'm also looking for a school girl costume for some roleplays I have in mind.
Are guys intimidated by you?
NO! I wish! I actually have to be careful because I come off as very approachable to them. In person, I'm incredibly awkward in movement and social skills so, yeah, no one is intimated.
Where can your fans find you? Sites, twitter, etc
You can find me at

snapchat: Shyspells