Bonus Content
| "Nothing more empowers me as a woman than kicking a man square in the nuts." Geechie Kreampie Kathy 🍭 @EbonyXxMistress
"Nothing more empowers me as a woman than kicking a man square in the nuts." Geechie Kreampie Kathy 🍭 @EbonyXxMistress
Posted on July 11, 2019
Charlie
Geechie Kreampie Kathy aka @EbonyXxMistress was gracious enough to grant us an interview recently. Be sure follow her on twitter and check out the links below
I was born and raised in Rochester NY. Where I still currently reside. My hobbies … I'm pretty boring. I like to read, write and spend times out doors. Aside from being a Mistress of course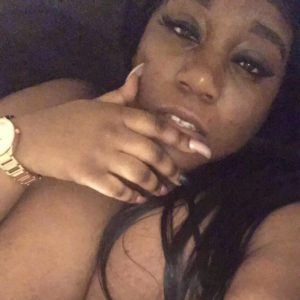 How does it feel to know so many strangers are aroused by your clips, posts, tweets, etc ?
Empowering honestly. As someone from a city where looks mean everything, I grew up a little insecure. I always from a young age got lots of attention online so I love the fact that men (and women) lust over me. 
Are you a fulltime dominatrix / mistress / Goddess? For those who aren't that familiar with the terms is there a difference? Or is it just preference?
I am a full time Mistress. There is definitely a difference !! I'm too raunchy to be a Goddess!! A Mistress is someone in control. I have authority I have ownership. To me a Mistress and A Dominatrix to me go hand and hand. As I Mistress to put it easy I am a mans other woman. I am his Mistress. Having control of mind body & soul. I get rough and gritty. I like to be cute but I am no pillow princess.
A Goddess however is meant to be adored. They remind me of a Princess. Real cute and pink and bright. Wanting to be worshiped just as a Mistress but in a softer way. Someone beautiful. 
What is something you haven't done in a session that you've wanted to try? Is there anything you think you'll never do within BDSM or fetish?
One session that I have never done is impact play. I would definitely like to try it. Things erotic spankings using multiple things like paddles or floggers. Hot wax Play is another one I am interested in

One thing I would never do is anything related to blood. 
How do you respond to someone that says fetish and BDSM is just about kinky sex and getting off?
I would let them know they're totally wrong. It goes far beyond getting off. After you cum you still live this life. In all honesty it's not about cumming at all for those truly committed to the lifestyle. BDSM is so much more than 50 Shades. It's more than being tied up, fucked, then sent about your business. Sorry just have to keep it real.     
Do you believe some can truly be a "switch"?
I believe that you only have one REAL role. You are either dominate or submissive. Now can u "switch" and play the other role sure why not ? But at heart you will always be either one of the two. I don't believe u can truly be both. I am dominant , but to my other half I submit. I submit while not completely giving up my dominant side. I don't know how to. I am still bossy I am still going to stand my ground, because I don't know how to submit 100% my mind will not allow me to. 
What is your favorite type of femdom activity? ( face sitting, ass worship, ball busting, etc )
My favorite femdom activity would definitely have to be ball busting. Nothing more empowers me as a woman than kicking a man square in the nuts. Squeezing them and abusing them. In a sense it's like taking a little piece of their manhood. We all know that area on a man is the most sensitive. We are taught early if a man is trying to hurt you kick him n the balls !! So to do it to a man that's willing, that's an amazing feeling. To take all ur frustrations out on this poor guys ballsack. To show him who's really in control. 
What is the most sensitive part of your body?
My feet.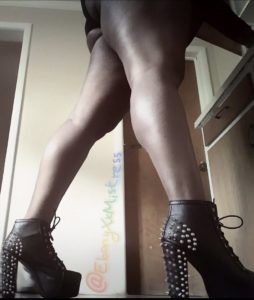 What is your wildest or most unexpected experience in a session?
Wildest experience in a session was a double domme session with my mom. 
Most performers/content creators  say they like the interaction with fans through CAMs and social media, in just a few words how would you describe your fans?
My fans are loyal freaks  
Do you visit adult sites? If yes do you have a favorite niche?
I do. My favorite niche is Ebony Pussy Eating & Creampies 
What is something people always assume about the BDSM and fetish lifestyle and are always wrong about?
That it is all about being tied up , with whips and chains and busting nuts. They don't understand the real life, long term partners and commitment to this lifestyle people really have 
What is the next, project, shoot, etc?
I'm putting into play a shoot this July for all of those with taboo fetishes so stay tuned 
Where can your soon to be fans find you? Sites, twitter, etc
Twitter | EbonyXxMistress