Bonus Content
| "it takes a special kind of man to date a sex worker" An Interview with @cherryfineass
"it takes a special kind of man to date a sex worker" An Interview with @cherryfineass
Posted on July 02, 2019
Charlie
Hello I'm Cherry. I was born and raised in Alabama. I enjoy reading and watching crime documentaries.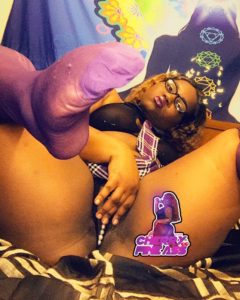 How does it feel to know so many strangers are aroused by your clips, posts, tweets, etc ?
– When I first started it made me uncomfortable. I was shy and was just trying to make some quick money. But, as I progressed I started to feel empowered by so many people loving my content.
Do you have any tattoos or piercings ? If yes,how many do you have? Where are they? Which is the most recent? Which was the most painful?
– I have nipple piercings and one tattoo. My tattoo is on the right side my stomach and it's simply birds flying up my side. I'll have to say my tattoo was more painful because it was my first one. I plan on getting more piercings soon so be on the lookout.
What is the most creative pickup line you've ever heard?
– I'm a country girl, so I hear pick up lines like, " We should go mud riding sometimes." 
Are you a dom, sub, or switch in your personal life?
– I would have to say I am a switch in my personal life. Depending on the person I'm messing around with I may take control or I might become a little submissive.
What is the most sensitive part of your body?
– my feet 
What is something you haven't done on a shoot that you've wanted to try? Is there anything you think you'll never do sexually?
– I am still waiting to shoot some girl on girl content as well as a threesome with two males and two females. I think I'll never try pet play, race play, and blood play.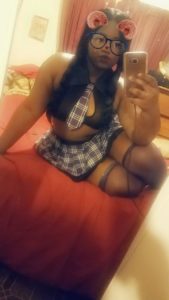 Most girls say they like the interaction with fans through CAMs and social media, in just a few words how would you describe your fans?
– I would describe my fans as quiet. My fans really don't talk to me.
Do you visit adult sites? If yes do you have a favorite niche?
– I'm no stranger to pornhub and I've bought a couple of onlyfans. My favorite niche JOI & watching males jack off.
Do you watch your own movies? Does it turn you on?
– Of course I watch my own porn. I usually masturbate to them.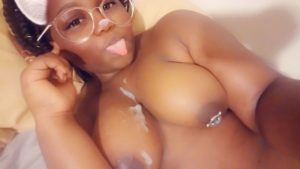 What is something people always assume about you and are always wrong about?
– Everyone automatically assumes I do meet ups because of the circle of people I hang around but I only film when certain people.
Are guys intimidated by you?
– I've had some who were intimidated. I understand it takes a special kind of man to date a sex worker
Where can your fans find you? Sites, twitter, etc
– my fans can find me on Twitter and my Public Snapchat.
Twitter – @cherryfineass
Snapchat- cherrywthefass