Bonus Content
| Classic Interview – @XESEBT The CEO of exploitedblackteens.com talks femdom
Classic Interview – @XESEBT The CEO of exploitedblackteens.com talks femdom
Posted on April 15, 2019
Charlie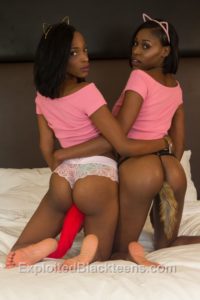 in photo Safarri Tiger and Nelli Tiger

The owner and lead performer for ExploitedBlackTeens.com, has been in the adult industry over 12 years, shooting his first scene back in 2000 at the mature age of 18. He grew up in LA and currently still calls the west coast home, besides several trips a year to the Boston area. He recently answered a few questions for us about his experience in the adult industry. Be sure to checkout www.exploitedblackteens.com, as well as the links below
1)How does it feel to know so many strangers are aroused by your clips, posts, tweets, etc ?
Never really thought about that. Would be weird to think of a guy whos tweeting me that has a hard on at the same time after seeing a pic or video from EBT! LOL but that's cool I love sharing!
2)Have you ever agreed to meet a fan?
Well for guys I haven't . May start doing some fan oriented events though , that would be cool.
As far as girls – ever since the twitter and the adult tubes I'm actually having conversations with girls who watch my videos and that is something that is real cool. I have yet to bang a female fan for the site but I want to start doing that.
3)Have you ever done any femdom, shoots or in your private life? Is it something you've enjoyed? Or maybe never even considered it?
Nothing extreme I don't mind having a girl jump on me to take control sometimes but then I feel as though ive got to do something as well and let it be a give and take type scene.
As far as the extreme femdom stuff like face sitting, ball smashing, or heels on my dick, I don't think at the current time that is my cup of tea.
4)Have you ever taken to an extreme level? Maybe letting a woman force you not to cum or making you stop and start again? What is the most extreme experience you'd like to share?
Yes I have. Ive done it on a couple occasions because the girl actually told me she likes that stuff.
I remember this one girl loved having me spit in her mouth while she sucked my dick
and then i had this other girl i remember doing everything with her, I choked her, pulled her hair, spit in her mouth, fucked her in the ass with my dick and a butt plug at the same time, then i fucked her in the ass and stuffed a big dildo in her pussy at the same time, and then did some ATM stuff with her. Wow that was a fun girl!
5)Has a girl ever offered to do something with you during a shoot that you never even heard of? You turned her down, then later considered it or even tried it?
I haven't yet come across a sexual maneuver that I haven't heard of. But I remember one girl saying she would like to try a strapon and I gracefully declined.
I do remember a chick saying she wanted to eat my ass , I thought that was weird but I say why not. If it turns you on go for it. It felt weird when she did it . would I let a girl do that again … sure why not.
6)What is your wildest or most unexpected experience on a shoot?
Wildest experience on a shoot – there are lots of them but I do remember this chick coming over from the UK to the US and I did this shoot with her. For some strange reason she had it in her head that all American porn was like super extreme so when I shot the scene she literally went so hard on sucking my dick that she gagged herself and threw up on my cock and then looked at me and said "yeah that's what you like , that's what you do in porn" and kept on sucking my dick . I was like wtf has this girl been watching
Unexpected experience I had on a shoot – I was shooting in a 3rd world country and had a girl bite me on my arm on set and broke my skin. She had lock jawed herself onto my arm like a pitbull for like 4 minutes. My friend took a photo of her doing it. I managed to creatively remove her face from my arm and threw her out the room.
7)Who is the most fun and/or laidback person you've ever worked with?
Some really cool amateurs ive shot but if I named em you wouldn't know em
But for porn stars – lil baby, angel eyes ( @Angel_Eyesxxx ), jada fire ( @the_jada_fire ), kakey ( @KAKEYxxxx ), Vanessa blue ( @Vanessa_Blue ) , heaven st Claire, Alicia tyler ( @aLiCia_TyLeR ), sky banks ( @SkyBanksXxx ), Evanni Solei, baby cakes,
8)Do you visit adult sites? If yes do you have a favorite niche?
yes i still get the chance to surf porn when i have a moment
tubes:pornhub, xhamster, xvideos are good to find some current stuff
paysites: germangoogirls , brazilianfacials, ghettogaggers, some brazzers, reality kings, and bangbros stuff
my niche is : amateur , black girls , facials , and some pornstar stuff
9)Do you watch your own movies? Does it turn you on?
Man when i first started , as soon as i shot the video i would head home and rub one out to the video!!
Now once in awhile i do it on certain girls but for the most part im looking online for new girls to watch.
10)What is something people always assume about you and are always wrong about?
Maybe some people think im 100% Caucasian – they meet me and there like oh your mixed.
11) What is the next, project, shoot, etc?
Well im gonna mix the best of both worlds together with the new age of porn and things being live. In 2013 im gonna try out broadcasting the shoot live. It wont look anything different then what you see now as the quality of the video will still be the same but you will actually be able to see it live. So whatever happens on video it will be live , so expect the unexpected!
Anything you'd like to add in closing?
Here is also a nice little thing i put together for more in depth on how i goto into porn http://blog.exploitedblackteens.com/post/19186433894/how-i-got-started-in-porn
Additional links
blog.exploitedblackteens.com – behind the scenes info