Bonus Content
| Classic Interview – @MarleydaBooty Marley XxX – The right touch in the right place at the right time? It drives me CRAZY!
Classic Interview – @MarleydaBooty Marley XxX – The right touch in the right place at the right time? It drives me CRAZY!
Posted on January 15, 2019
Charlie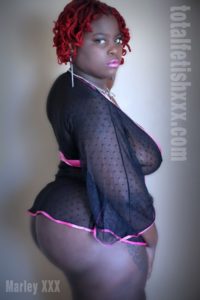 a little background…..
I was born in SE Washington DC. I currently live in Las Vegas. When i'm not shooting, I enjoy reading, writing, (mainly erotica), watching scary movies, and when the mood strikes I may hit up a local hookah bar or club.
How does it feel to know so many strangers are aroused by your clips, posts, tweets, etc ?
I LOVE the fact that people admire what I do, especially the ones I DON'T know. To me that's the….ALLURE of it all. I love to do my webcam shows and shoot my scenes knowing that the viewer is going to genuinely enjoy it because I genuinely LOVE doing it for them.
Are you looking forward to your shoot with totalfetishxxx ? Have you heard anything about Charlie and the boys?
Yes! I am VERY much so looking forward to it! I've first heard about Charlie and the boys from another pornstar and friend, Wendi Williams. I instantly visited the websites and was hooked. Charlie is such a good boy. I think i'm going to have a lot of fun with him.
Tell us about your tattoos, how many do you have? Where are they? Which is the most recent? Which was the most painful?
I have 5 tattoos. One on my right shoulder , my left breast, my right upper thigh, and two on my left arm. The most recent one is the one on my arm, which is a Marijuana leave (i'm 420 friendly lol). It didn't hurt THAT much. But the most PAINFUL one is the one on my thigh. It was the only tat that I got sober and it hurt like hell! Not to mention I had a room full of people watching me SQUIRM. lol
What is the most creative pickup line you've ever heard?
Well where i'm from, men get right to it. Lol It's more of a "Hey lemme talk to you' or the more BOLD ones, "Look i'm tryna FUCK"

I remember the last time I've actually heard something…CREATIVE. Lol
Are you a dom, sub, or switch in your personal life?
I would think i'm a sub. I love a very dominate man in the bedroom. BUT with the RIGHT person, I can get a little dominate myself. It feels awkward at first but the more I get into it, the more dominate I become.
What is the most sensitive part of your body?
I'm a sensitive person all over. The right touch in the right place at the right time? It drives me CRAZY! Lol
What is your wildest or most unexpected experience on a shoot?
I would say my wildest experience shooting was the first time I shot with Rock Theicon. One of the scenes we shot involved a lot of toys. Now I had NO CLUE about this prior to. He had a cordless hitachi, a SEYBIAN….NOTHING prepared me for how much I squirted that day. I came so HARD….in a room full of people. Lol It was…kinda liberating.
What is something you haven't done on a shoot that you've wanted to try? Is there anything you think you'll never do sexually?
Well eventually I hope to do a scene involving two or more guys. That's what I like and I really think the fans will enjoy it. I wont things do like fisting. Lol I don't think I would like it. But I think later down the line, I would be ready to try more intense things like a DP….a girl can dream right? Lol
Who is the most fun and/or laidback person you've ever worked with?
I've shot with a few cool guys that I wouldn't mind shooting with again. But the most cool laid back guy was Rock and Ludus Adonis. Both are very professional when it come to getting the scene done. They were also very fun to be around. Always kept me laughing.
Do you visit adult sites? If yes do you have a favorite niche?
I'm pretty basic when it comes to porn sites. Lol I go to the usual ones like pornhub. I watch a lot of interracial porn involving a lot of anal DP gangbangs…stuff like that. Lol
Do you watch your own movies? Does it turn you on?
Of course I watch my own movies! It turns me one but I watch it more so to critique myself. See what I'm doing well and what needs improvement on. But for the most part it's fun to watch!
Are guys intimidated by you?
I don't think that guys are intimidated by me. But I've been told that I can come off a little harsh sometimes. Lol
Where can your fans find you? Sites, twitter, etc