Bonus Content
| "People assume I am a prude because of how innocent I look. If only they knew" @Mrmrswetter
"People assume I am a prude because of how innocent I look. If only they knew" @Mrmrswetter
Posted on January 20, 2020
Charlie
We are Mr & Mrs Wetter. By day, we are Social Media Marketers and by night, we shoot our own porn videos and give reviews on sex toys.
But we lead pretty normal lives lol. We love to travel and film our sexcapades in different locations. We are from Africa and still stay here.
Our hobbies are doing anything artistic naked; photography, painting, crafts, cooking and backyard gardening.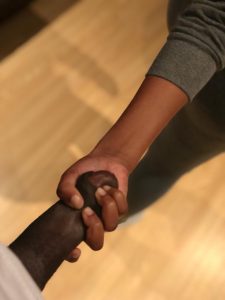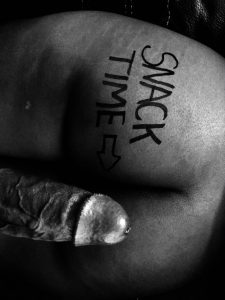 How does it feel to know so many strangers are aroused by your clips, posts, tweets, etc ?
Mrs: Empowering! I finally know that I'm an exhibitionist. And personally, the positive reception has boosted my sexual confidence and freedom. I hope showing other women will have the same effect.
Mr: It's interesting.. sharing clips of what is considered private was a little scary at first. But there's something in me that knows I love to perform, so it gives me a kick!
How long have you been a content creator? What is your favorite platform?
Mr: Well, the personal content has been going on for a while, like 2 years. But we just started putting it out in November 2019.

Mrs: Our favorite site has to be Twitter. There's just so much engagement on there! 

Mr: Yeah, Twitter because it's more active and straight forward. All that's missing is a premium feature and the ability to tip. But Only Fans gets the job done
What is the most creative pickup line you've ever heard?
Mrs: I actually don't get a lot of pickup lines, maybe they actually respect me!

Mr: It had to do with cum and a finger, but I don't recall. In Africa pickup lines aren't really a thing 
Are you a dom, sub, or switch in your personal life?
Mrs: A Switch, definitely a Switch. I even did a test where I scored 100% as a Switch lol. The test also said I am 66%Dom and 65%Sub, so I lean more to the Sub side while I explore my Dom side
Mr: I'm a Switch more leaned towards the Dom side.. like 70%Dom and 98%Switch.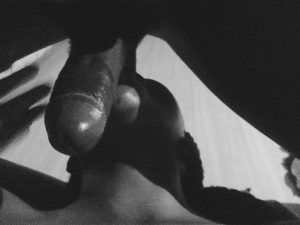 What is the most sensitive part of your body?
Mrs: My clit (Duh! Lol) okay if we're excluding private's then I don't know what to call the part my front pelvic area maybe? Like literally where my pelvic bones poke out just above my pussy. It's ridiculously sensitive and ticklish!
Mr: I recently discovered it was the front of my ankles. I mean, I don't have real proof 'cause it only happened in one session where she licked them repeatedly and my whole body would jerk so hard… But most times I'd like to think it's my ears and the front of my pelvic area.. where my legs connect to my body.. had to describe it, I don't know what it's called
What is your wildest or most unexpected experience on a shoot?
Mrs: An orgasm from penetrative sex alone. Honestly sometimes shooting can be nerve wracking. But I totally surprised us when I came from riding him
Mr: I'm not sure if we've had one of those yet.. I think, wait, no, sorry looks like we actually haven't shot enough to encounter those. Could be the surprise orgasm Mrs Wetter had. This one was shocking in particular cause it happened in such a short space of time after we had our intimate time before the shoot. She is still kind of learning her body so orgasms that happen in weird in expected times excite us.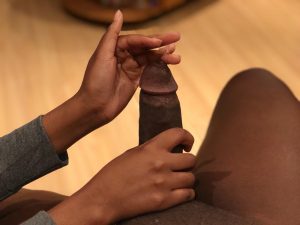 What is something you haven't done on a shoot that you've wanted to try? Is there anything you think you'll never do sexually?
Mrs: Ooh, I've always wanted to do anything involving a creampie or squirt all over his dick then start riding again also giving him oral pleasure with another woman, simultaneously and him giving the same to me with another woman  I'd never do anything that involves human shit or vomit. Or any kind of shit or vomit  and a gang bang with men. Women however!
Mr: I love anything oral, so seeing as we are a couple, right now we haven't included anyone in our shoot time but definitely a double blowjob. I think that would be amazing to have on a shoot for the viewers and I. In terms of anything we would never do sexually.. I'm not so sure cause we are highly experimental, I can't really bring any thing to mind.  But if you are just asking about anything I totally would never do even if the chance was available to me.. it would totally be Scat play or anything Scat related.
What part of your body do you feel goes underappreciated?
Mrs: wow, I actually can't think of anything. 
Mr: I don't think there is anything that goes under appreciated. maybe my knee caps?? Lol, okay honestly, I can't bring anything to mind.. Mrs is very thorough.
Who is the most fun and/or laidback person you've ever worked with?
Mrs: I've only ever worked with my current partner. Is it a bias to say he is the most fun and laidback person I've ever worked with?
Mr: Mrs Wetter..Duuuuuuh, lol just kidding…  But seriously, she is the only person I've ever worked with on set. But we're currently looking for a Sub play buddy/sex assistant/friend with benefits that we can rope into our escapades.. I think our viewers would love to see an alpha couple and Slave/Sub.
Most models say they like the interaction with fans through CAMs and social media, in just a few words how would you describe your fans?
Mrs: Positive, interactive and exciting. We don't have many, but the few give me such a boost!
Mr: Honestly, I haven't been on long enough to have a full interaction with fans, but from the little that actually engage us I would like to say they are super cool and calm very respectful too..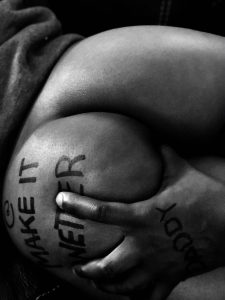 Do you visit adult sites? If yes do you have a favorite niche?
Mrs: Oh we stay visiting adult sites! Our shared niche is big jiggly asses riding dick, ebony porn, pawgs, blow jobs, threesomes with females. Anything with wet sounding pussies. Personally, I also enjoy watching gang bangs, double penetration, lesbian porn and women masturbating.  
Mr: Yes!!!! Although I don't get excited by them as much, I genuinely feel like the content Mrs Wetter and I make drives me crazy. So she is high key one of my favorite performers & a lot more fun cause I get to fuck her so that's a plus. Uhm niche? ORAL, SLOPPY WET BLOWJOBS, FACE FUCKING,PAWGS RIDING DICKS and CUMPILATIONS. Everything ebony and interracial too. It just has to have oiled jiggly asses, a dick in her mouth and be super messy.
Do you watch your own movies? Does it turn you on?
Mrs: We love watching our own movies! I used to feel shy though. I think I couldn't believe that's how we looked having sex lol. Or how my body looked. I recently came around and they make us so horny!
Mr: I can only really cum to our own movies, that's the truth. They are just so arousing to me. It's a shame we don't show our faces so you don't get to see our spontaneous sessions… but honestly we would probably ranked quite high on XXX sites if we released our private stash.
What is something people always assume about you and are always wrong about?
Mrs: People assume I am a prude because of how innocent I look. If only they knew
Mr: That we are America or European.. We're in Africa… We are Africans!!!
What is the next, project, shoot, etc?
Mrs: Definitely scenes with a third person!
Mr: I'm hoping genuinely for a 3rd in our next series of shoots cause I think having an extra mouth or hands on set would totally show the crazy alpha side of us and I'd love seeing Mrs Wetter dominate another woman; that gets me rock hard.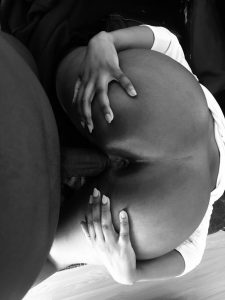 Where can your fans find you?

You can find us on:

Twitter @Mrmrswetter

Onlyfans: Mrmrswetter