Bonus Content
| Get to know @Mrsladyphoenix the happy freaky couple
Get to know @Mrsladyphoenix the happy freaky couple
Posted on December 13, 2019
Charlie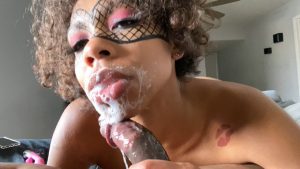 How does it feel to know so many strangers are aroused by your clips, posts, tweets, etc ?
It was different you know, but after awhile we settled into the comfort of promoting freaky, fun, marital sex. It actually turned us on more to each other
Please tell us about your tattoos and/or piercings ? How many do you have? Where are they? Which is the most recent? Which was the most painful?
To protect my identity, I plead the fifth lol
How long have you been a content creator? What is your favorite platform?
we only started in 2018, both me and my husband are free spirited people and thought it'd be fun. We began on manyvids but that allows for piracy so we switched over to onlyfans which has been more fruitful on the payment side and more secure on the business and security side.
What is the most creative pickup line you've ever heard?
I want to fuck your throat
Are you a dom, sub, or switch in your personal life?
A wife
What is the most sensitive part of your body?
my inner thigh
What is your wildest or most unexpected experience on a shoot?
Well nothing was really unexpected because me and my life partner communicate beforehand about everything but we recently got me a vibrator toy and whew we have been having some fun with that, he gets to sex me while I suck him.
What is something you haven't done on a shoot that you've wanted to try? Is there anything you think you'll never do sexually?
We will never do anal, no judgement to those who do but it isn't our style. We do want to get a better setup to capture our actual lovemaking scenes like when I'm riding him or he's hitting it from the back
What part of your body do you feel goes underappreciated?
my growing ass lol
Who is the most fun and/or laidback person you've ever worked with?
I've only worked with my life partner
Most models say they like the interaction with fans through CAMs and social media, in just a few words how would you describe your fans?
I think they feel inspired about our promotion of freaky marital sex bc all you really see are the single wild hot girls going from man to man… most of our male fans really enjoy seeing an actually married couple doing what we do bc it gives them hope that they can find someone that loves to enjoy life with them one day. 
Do you visit adult sites? If yes do you have a favorite niche?
Xnxx and tastyblacks… always the deepthroat, which we are boss of now lol, and ebony
Do you watch your own movies? Does it turn you on?
We actually don't watch them but my husband said when he's editing the clips he gets in the mood lol
What is something people always assume about you and are always wrong about?
Former friends that found out about our content immediately thought I was in bondage and being forced and abused lol, little did they know I feel more free than I ever felt being able to sexually express myself this way. So they assume I'm some pushover helpless damsel but in reality I'm an empowered wife doing the damn thang!
What is the next, project, shoot, etc?
We will keep experimenting with angles on our scenes, but now I want to host digital classes or sell instructions on how to #upgradeyourwife, my hash lol, in order to get a Phoenix Sloppy!
Are guys intimidated by you?
I doubt it, I'm too sexy so I think I make them attracted
Where can your fans find you? Sites, twitter, etc
@Mrsladyphoenix on Twitter